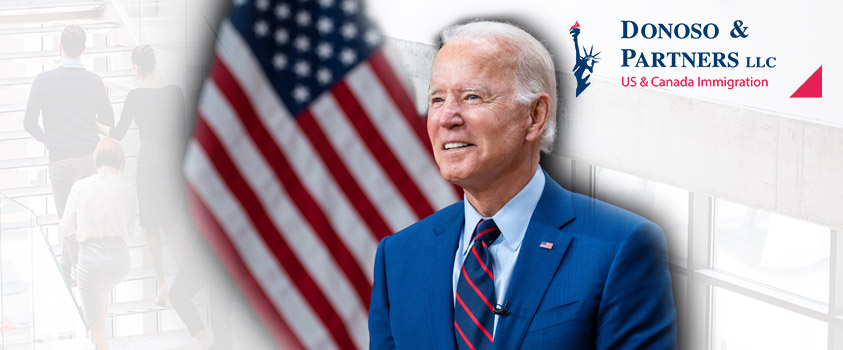 25 Jan

Biden's Proposal for Undocumented Workers

Washington, D.C., January 22, 2021: On his first full-day in office, President Biden announced immigration reform as a key initiative of his administration. The outlines of his immigration reform plan have been made public, as has the name of his signature immigration bill, the U.S. Citizenship Act of 2021.

The text of the U.S. Citizenship Act of 2021, however, has remained a closely held document. Donoso & Partners understands that it has been shared with Democratic leadership in the House and Senate, and that its lead sponsor in the Senate will be Senator Menendez (Democrat from New Jersey).

Who are Undocumented Workers?

There are an estimated 11 million undocumented workers in the United States. Over several decades, undocumented workers have entered the United States illegally through the southern border, or entered the United States legally with a visa but remained after their visa expired. Under current immigration laws, these undocumented workers are not allowed to legalize their situation except for very limited circumstances.

The large majority of undocumented workers are from Mexico and Central American countries, as well as some Asian countries and Brazil. Most work in labor-intensive industries such as agriculture, food production and construction. In many respects, these workers live in the shadows but work in the country's day-time economy.

What's Biden's Solution?

The key solutions proposed by the Biden plan is to provide a path that allows undocumented immigrants to obtain legal status and eventually, to apply for citizenship.

Since the U.S. Citizenship Act of 2021 has not be released to the public, we have provided a summary of the concepts that are known so far, based on publicly available information and Donoso & Partners knowledge of the DACA program:

1. Physical Presence: only undocumented immigrants who were physically present in the United States on or before January 1, 2021 would qualify. An exception may be granted on humanitarian grounds.

2. No Serious Criminal Record: the plan would not allow undocumented immigrants with felony or serious misdemeanor convictions to qualify for legalization.

3. Tax Compliance: undocumented immigrants would be expected to bring their taxes in order, requiring filing of tax returns and paying any taxes owed.

4. Postpone Deportation: legalization applications would likely serve to postpone an, eventually, close deportation (known as "removal") proceedings in immigration court.

5. Biometrics: applicants for legalization would be subject to fingerprinting and biometrics, including FBI background checks.

6. Work Permit and Travel Permit: successful applicants would be granted a temporary work permit and travel permit. They would thus be able to integrate themselves into the formal economy, and travel internationally.

7. Applying for Green Card: After five (5) years of compliance with their Work Permit obligations, undocumented workers would be able to apply for a green card if they pass background checks and pay taxes. Undocumented immigrants who obtained temporary protection under DACA (Deferred Action for Childhood Arrivals), or TPS (Temporary Protected Status), as well as farmworkers would be able to apply for green cards immediately after enactment of the U.S. Citizenship Act of 2021.

8. Applying for Naturalization & Citizenship: Successful applicants who obtain green card status would be authorized to apply for naturalization after three (3) years of green card status (rather than the usual 5 years). All applicants for naturalization would be re-screened for FBI background checks, tax compliance and would have to pass tests on the English language, U.S. history and U.S. government.

Many of the requirements for legalization under the U.S. Citizenship Act of 2021 are likely to be resemble the successful DACA program introduced by President Obama in 2012. At present, over 700,000 people brought to the United States as children under the age of 16, who have completed high school in the United States and who do not have any significant criminal record have been able to obtain temporary protection from deportation and a work permit under DACA. After several years of litigation during the Trump Administration, the DACA program was upheld by the Supreme Court in 2020 and is now once again accepting new applications.

Conclusion

Overall, the impact of the Biden plan on immigrant communities would be life-changing. Undocumented workers have remained part of the U.S. economy for over 3 decades. Their numbers have declined due to mass deportations during the Obama and Trump Administrations.

Nevertheless, the COVID19 pandemic of 2020 put a spotlight on the fact that undocumented workers continued to perform their jobs in the U.S. economy during the country's health crisis. The agricultural sector, food production, construction or cleaning services all continued operations largely as normal, relying on millions of undocumented workers, while large parts of the U.S. workforce worked from home, took measures to socially distance or wear protective gear.

Donoso & Partners, a leading immigration law firm based in Washington, D.C., will continue to report on developments regarding the immigration law and policy through our news section of donosolaw.com.
SCHEDULE A CONSULTATION TODAY.
Donoso & Partners, LLC provide assistance with review and advice regarding eligibility for visas to the U.S. or Canada.