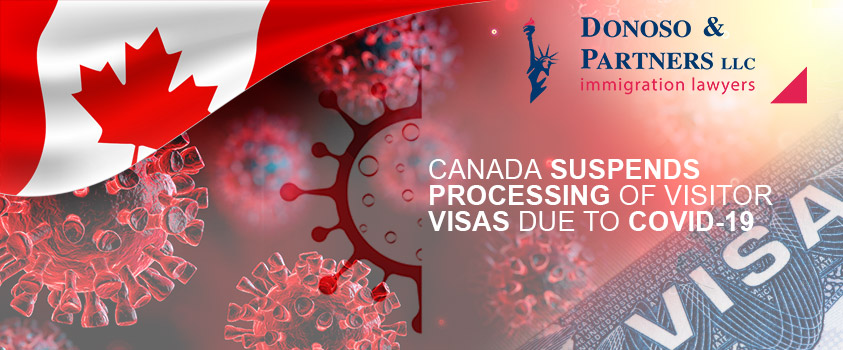 14 Apr

Canada Suspends Processing of Visitor Visas due to COVID-19

Ottawa, April 10, 2020—With the current travel restrictions in place, most foreign nationals are prevented from entering Canada, with some exemptions.

With these restrictions, Canada is suspending processing of non-essential visitor visa applications. This allows Immigration, Refugees and Citizenship Canada (IRCC) to focus resources on critical services. This suspension also applies to some electronic travel authorization (eTA) applications.

Processing of visa and eTA applications for those who qualify for an exemption to the travel restrictions will continue. This includes all temporary foreign worker applications, with a particular focus on essential services, such as those in medical fields and food supply chains.

The processing of study permits for students will continue in anticipation of the fall study term. IRCC will continue to process applications to the extent possible. Study permit applications require biometrics, and many visa application centres that normally provide this service are closed. As a special measure, due to COVID-19, applicants are now being given 90 days instead of the standard 30 days to give biometrics. It should be noted that only students with a study permit issued before March 18, 2020, can currently travel to Canada.

Workers, students and visitors (who qualify for an exemption to travel restrictions) must apply online.

Permanent residence applications continue to be processed. Only permanent residents who received approval before March 18, 2020, can currently travel to Canada.

IRCC will continue to provide updates on any further changes, including when the suspension of processing is lifted.

Donoso & Partners, a leading immigration law firm based in Washington, D.C., will continue to report on developments regarding the immigration law and policy through our news section of donosolaw.com.
SCHEDULE A CONSULTATION TODAY.
Donoso & Partners, LLC provide assistance with review and advice regarding eligibility for visas to the U.S. or Canada.