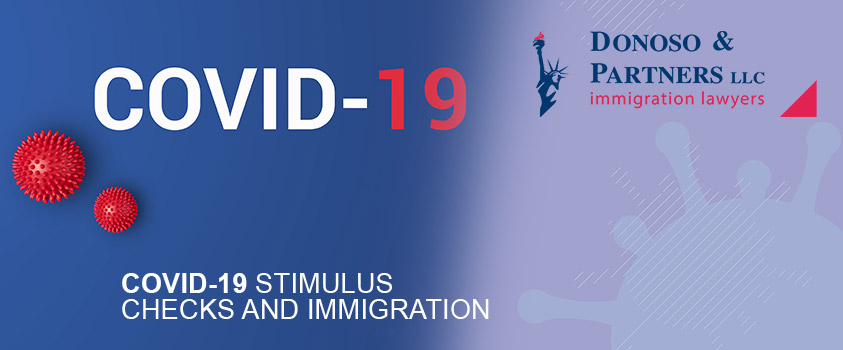 31 Mar

Covid-19 Stimulus Checks and Immigration

Washington D.C., March 31, 2020: The Coronavirus Aid, Relief and Economic Security Act provides a one-time payment of $1,200 per eligible adult ($2,400 for married couples filing taxes jointly) plus $500 per child under age 17.

Who is Eligible?

Persons eligible for the $1,200 stimulus check include U.S. citizens and non-citizens with a valid Social Security number who live and work in the United States. Thus, persons who are in green card status and most people on work visas such as H-1B and H-2A are eligible. Additionally, eligible persons cannot be claimed (or eligible to be claimed) as a dependent on someone else's tax return. Finally, stimulus payments start to phase out for single filers with adjusted gross income above $75,000; married couples filing jointly with AGI above $150,000; and heads of household (that's a single person with dependents), with AGI above $112,500.

Stimulus amounts will be paid out based on 2019 income (or 2018, if an individual hasn't yet filed their 2019 tax return).

Who is Not Eligible?

People considered "nonresident aliens" will not be eligible for the $1,200 per adult and $500 per child benefit. Visitors and those who are in the country illegally will not be eligible for the program.

Donoso & Partners, a leading immigration law firm based in Washington, D.C., will continue to report on developments regarding the immigration law and policy through our news section of donosolaw.com.
SCHEDULE A CONSULTATION TODAY.
Donoso & Partners, LLC provide assistance with review and advice regarding eligibility for visas to the U.S. or Canada.