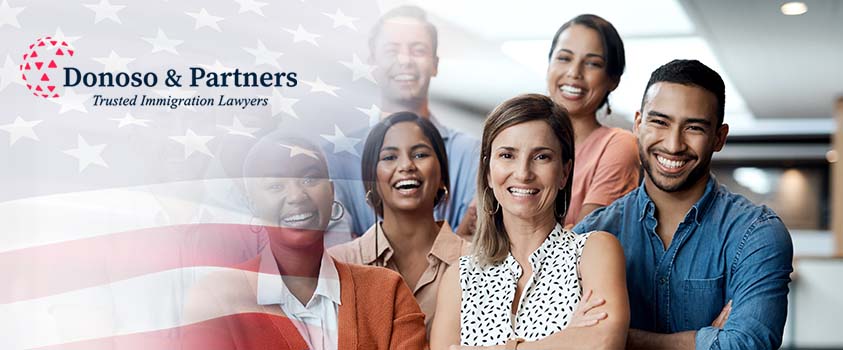 20 Jun

Employment Authorization in Compelling Circumstances

USCIS launches temporary employment authorization to nonimmigrants in compelling circumstances. The nonimmigrant must be the beneficiaries of approved employment-based immigrant visa petitions (Form I-140). This stopgap measure is intended to address certain particularly difficult situations, including those that previously may have forced individuals on the path to lawful permanent residence to abruptly stop working and leave the United States.

Category (c)(35) is for principal beneficiaries of approved Form I-140s who are in the United States in E-3, H-1B, H-1B1, L-1, or O-1 nonimmigrant status and are applying for an initial grant of employment authorization based on "compelling circumstances," or a renewal of such authorization.
Category (c)(36) is for qualifying dependent spouses and children of a principal beneficiary granted employment authorization under category (c)(35).
USCIS may grant employment authorization and issue an Employment Authorization Document (EAD) in these two categories for up to one year if we determine that there are compelling circumstances that justify issuing employment authorization.
NOTE: USCIS considers an applicant with a valid EAD based on compelling circumstances to be in a period of authorized stay by the Secretary of Homeland Security. If you receive a compelling circumstances EAD, and begin working based on this EAD, you will be in a period of authorized stay, but you will no longer be maintaining your nonimmigrant status. However, you generally will not accrue unlawful presence in the U.S. while the EAD is valid or, if you filed a non-frivolous application on time, while your application is pending.
ELIGIBILITY:
You are eligible to apply for an initial EAD under category (c)(35) if you:
Are in the United States in E-3, H-1B, H-1B1, O-1, or L-1 nonimmigrant status, including in any applicable grace period, on the date you file the application for employment authorization;
Are the principal beneficiary of an approved Form I-140;
Can establish that an immigrant visa is not authorized for issuance to you based on your priority date, preference category, and country of chargeability according to the Final Action Date in effect according to the Department of State's Visa Bulletin on the date you file your application for employment authorization; and
Can demonstrate that compelling circumstances exist that would justify USCIS using its discretion to issue you an independent grant of employment authorization.
If you want to renew an EAD under category (c)(35), please see the Renewing Your Employment Authorization section below.
Your family members may also apply for employment authorization under category (c)(36). If approved, the validity period for their EADs may not extend beyond the period authorized for you, the principal beneficiary.
HOW TO APPLY
You must file Form I-765, Application for Employment Authorization, to request an initial grant of employment authorization under category (c)(35) or (c)(36). You must receive an EAD from USCIS before you can begin working under this employment authorization.
Carefully follow these steps to prevent your application from being rejected and returned to you:
Complete Form I-765 using the Instructions for Form I-765 (PDF, 751.16 KB). We will reject any application that is not accompanied by the proper filing fees or signature. Read the Filing Fee section on the Form I-765 page to find what fee to pay.
Submit supporting evidence (see chart below). Submitting sufficient supporting evidence will minimize the likelihood that we will need to send you a request for more evidence.
Donoso & Partners, a leading immigration law firm based in Washington, D.C., will continue to report on developments regarding the immigration law and policy through our news section of donosolaw.com.
SCHEDULE A CONSULTATION TODAY.
Donoso & Partners, LLC provide assistance with review and advice regarding eligibility for visas to the U.S. or Canada.