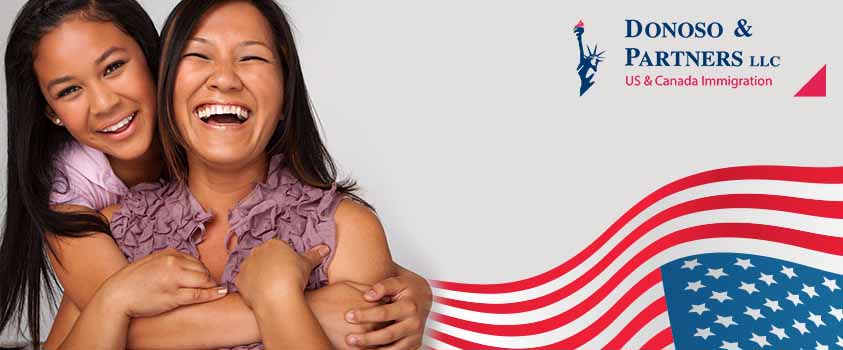 19 Mar

House Passes Bill Giving Legal Status to Dreamers

Washington, D.C., March 19, 2021: Yesterday, the US House of Representatives passed two important Bills seeking to grant undocumented persons brought to the US as children (called "Dreamers") legal status in the US and, eventually, a pathway to citizenship.

The American Dream and Promise Act of 2021 is part of President Biden's initiatives to resolve the situation of undocumented immigrants.

Estimates from the Migration Policy Institute indicate that the bill could make a maximum of 4,438,000 DREAMers, individuals eligible for Temporary Protected Status (TPS) or Deferred Enforced Departure (DED), and legal DREAMers eligible for permanent residence.

The Bill received strong support from Democratic Party members of the House, with also 8 Republican members of the House voting in favor.

DREAMERS

The American Dream and Promise Act grants conditional lawful permanent resident status for 10 years to certain undocumented immigrants who entered the US illegally as children.

The primary requirements in the Bill are the following:

1. Entry into the US prior to January 1, 2021.
2. 18 years of age or younger on the date of entry into the US
3. Continuous residence in the United States since such entry.
4. Enrolled or graduated from high school or have equivalent educational credentials.
5. Not have serious criminal records (no felonies, no serious misdemeanors).
6. No gang members, and meet other conditions.

To attain unconditional legal permanent residence after 10 years, applicants have to:

1. Obtain a higher education degree or 2 years of university education, or
2. Serve in the military for 2 years, or
3. Hold employment for at least 3 years and at least 75% of 10 years of conditional lawful permanent resident status.

Once an applicant obtains unconditional green card status they could apply for US citizenship after five years. Thus, US citizenship could be available to these applicants after 15 years from enactment of the Bill.

TPS and DED Holders

The Bill also would grant individuals with Temporary Protected Status (TPS) or Deferred Enforced Departure (DED) lawful permanent resident status and cancel removal proceedings if they:

1. Have been in the United States for a period of 3 years before the Act's enactment; and
2. Were eligible or had TPS on September 17, 2017 or had DED status as of January 20, 2021

Will the US Senate Approve the Bill?

Next, the Bill will head to the US Senate for consideration.

It faces an uncertain future because the Republican members of the Senate overwhelmingly oppose this bill. The US Senate operates under the "filibuster" rule, that requires at least 60 votes in favor to move a bill to a final vote. The Senate is presently split 50-50 between Democrats and Republicans, with Vice President Kamala Harris, a Democrat, holding the deciding vote. Thus, Democrats do not have a sufficient majority to pass the American Dream and Promise Act of 2021 without support from Republicans.

Unfortunately, over the past 20 years, Republicans have opposed most immigration legislation that seeks to offer legal status to any undocumented immigrants.

Donoso & Partners, a leading immigration law firm based in Washington, D.C., will continue to report on developments regarding the immigration law and policy through our news section of donosolaw.com.
SCHEDULE A CONSULTATION TODAY.
Donoso & Partners, LLC provide assistance with review and advice regarding eligibility for visas to the U.S. or Canada.