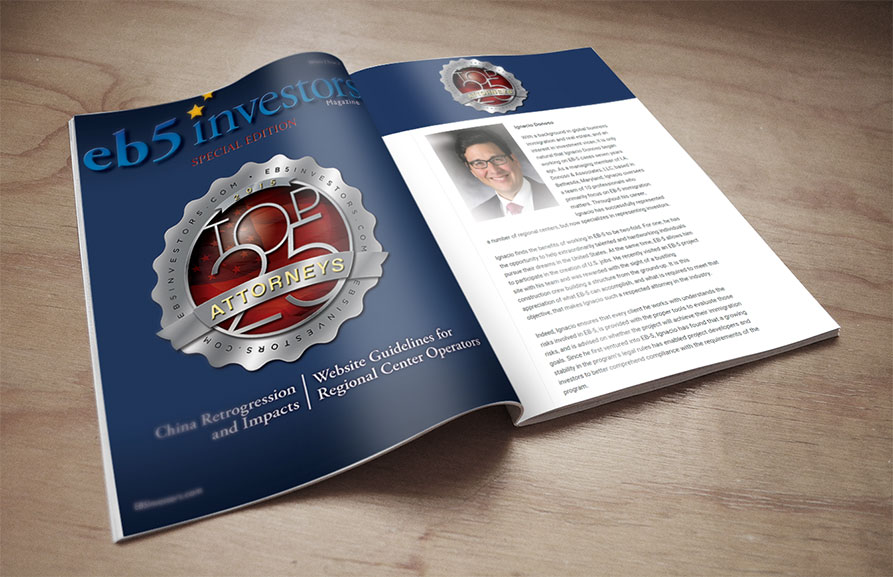 17 May

Ignacio A Donoso Included in EB5Investors Magazine's "Top 25 EB-5 Attorneys" List

The prestigious eb5 Investors Magazine has profiled to Attorney Ignacio A Donoso in its list of the "Top 25 Immigration Attorneys in the EB-5 Industry."
Ignacio Donoso
With a background in global business immigration and real estate, and an interest in investment visas, it is only natural that Ignacio Donoso began working on EB-5 cases seven years ago. As a managing member of I.A. Donoso & Associates, LLC, based in Bethesda, Maryland, Ignacio oversees a team of 10 professionals who primarily focus on EB-5 immigration matters. Throughout his career, Ignacio has successfully represented a number of regional centers, but now specializes in representing investors.
Ignacio finds the benefits of working in EB-5 to be two-fold. For one, he has the opportunity to help extraordinarily talented and hardworking individuals pursue their dreams in the United States. At the same time, EB-5 allows him to participate in the creation of U.S. jobs. He recently visited an EB-5 project site with his team and was rewarded with the sight of a bustling construction crew building a structure from the ground-up. It is this appreciation of what EB-5 can accomplish, and what is required to meet that objective, that makes Ignacio such a respected attorney in the industry.
Indeed, Ignacio ensures that every client he works with understands the risks involved in EB-5, is provided with the proper tools to evaluate those risks, and is advised on whether the project will achieve their immigration goals. Since he first ventured into EB-5, Ignacio has found that a growing stability in the program's legal rules has enabled project developers and investors to better comprehend compliance with the requirements of the program.
Not only has Ignacio proven effective in handling EB-5 matters, but he is also quite happy in the industry, which results in a high-level of responsiveness and dedication to his clients. This is evident in the fact that, for several years, Ignacio has been selected by his peers to serve on the AILA International EB-5 Committee with other leading immigration attorneys in the EB-5 industry. Through his work on the committee, he has alerted the EB-5 community to certain trends and fluctuations in the program, allowing for greater compliance success.
To read the feature article and attorney profiles, please click here.
SCHEDULE A CONSULTATION TODAY.
I.A. Donoso & Associates provide assistance with review and advice regarding eligibility under EB-5 category.