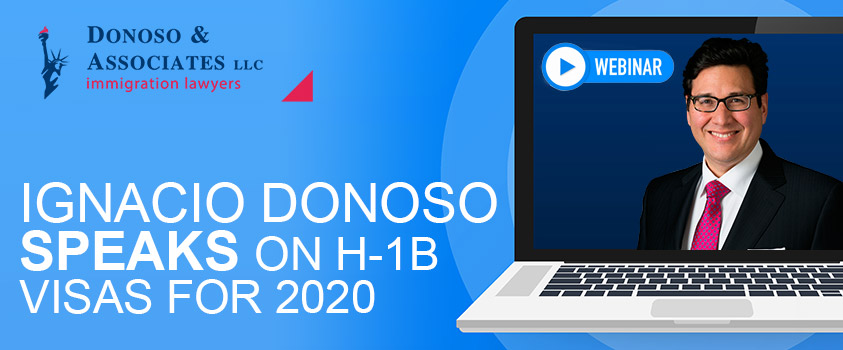 06 Dec

Ignacio Donoso Speaks on H-1B Visas for 2020

Washington D.C., December 5, 2019: Ignacio Donoso, Managing Partner of Donoso & Associates, LLC spoke recently on a national webinar intended to prepare employers for the up-coming 2020 H-1B cap season.

Key points from the presentation include:

New Priority for Drawing H-1B Lottery

Starting from the April 2019 Cap, new USCIS regulations adopted in January 2019 changed the H-1B visa lottery process. The lottery draw first takes ALL new petitions (U.S. Masters/Ph.D. and non-Masters) and draws the general cap of 65,000 new H-1B visas (approx.). Then, for all petitions that were not selected with beneficiaries holding U.S. Masters/Ph.D. degrees, USCIS will draw the 20,000 Masters/Ph.D. cap visas. This change in the system increased the chance of selection for U.S. Masters/Ph.D. beneficiaries by approximately 16%.

Potentially New Employer Registration System

The new H-1B regulations from January 2019 created an employer registration system for all new H-1B cap subject petitions – but suspended application for the system for the April 2019 cap.

The question is whether USCIS will implement the employer registration system for the April 2020 cap?

Presently, USCIS has given hints that it will. For example, in September 2019, USCIS passed a new rule creating a $10 employer registration fee for this program. Recently, Acting USCIS Director Cucinelli indicated that USCIS would try to implement the registration system and would inform the public by the end of 2019 if it would be doing so for the April 2020 cap.

How Does the H-1B Employer Registration System Work?
1st – Employer registers with USCIS using an on-line tool.
2nd – Employer's registration is run through the H-1B lottery
3rd – Employers selected in the lottery are notified to file a complete H-1B petition with USCIS
The key change is that the H-1B lottery is process through the employer registration instead of a complete petition.
What are the Benefits? Reduced paperwork and expenses for employers.
Sounds good. What's the hold-up?
The whole system requires a functioning online tool that USCIS has yet to launch.
Without the online tool, the system does not work
If USCIS implements the tool, do employers need to do?
USCIS will announce registration period 30 days before it opens
Registration period will remain open for 14 days
Employer's Required Information to Register:

Employer's name, FEIN, and mailing address;
Employer's authorized representative's name, job title, and contact information;
Beneficiary's name, date of birth, country of birth, country of citizenship, passport…
Beneficiary's education to indicate if he or she obtained a U.S. master's or higher degree
Employer's attorney or accredited representative, if applicable
$10 registration fee
Payment through credit card, debit card, or ACH
Pay.gov account required
Batch payment for multiple registrations permissible, as many time as needed
Donoso & Associates, a leading immigration law firm based in Washington, D.C., will continue to report on developments regarding the immigration law and policy through our news section of donosolaw.com.
SCHEDULE A CONSULTATION TODAY.
I.A. Donoso & Associates provide assistance with review and advice regarding eligibility for visas to the U.S. or Canada.