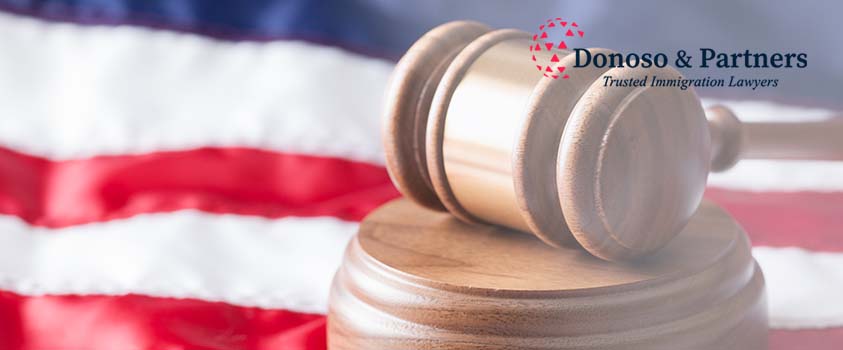 22 Jul

Introduction to Mandamus in EB-5 Cases
2022
Under U.S. law, an individual is allowed to file a lawsuit in federal court to require the U.S. Government to take some action. This lawsuit derives from English Common Law, and is called the "Writ of Mandamus". At its core, it is complaint by individuals who believe that government delay or inaction is causing them harm.
Mandamus has been growing in importance as a tool of last resort for individuals who have encountered unreasonable delays in U.S. Government processing of their immigration applications.
Mandamus Actions in EB-5 Cases
Mandamus has been successfully used to require the U.S. Government to issue decisions on I-526 and I-829 investor green card petitions experiencing years of delays.
Under the Biden Administration, USCIS and the U.S. Department of Justice have tended to avoid going to trial on mandamus complaints filed in relation to delayed I-526 and I-829 petitions. Biden Administration however has taken some I-526 mandamus cases to court because the I-526 petition was subject to fraud detection and national security issues.
I-829 petitions are more likely to succeed in a mandamus complaint. The controlling law on I-829 petitions requires USCIS to adjudicate on an I-829 petition within 90 days of filing or interview whichever is later (INA section 216A(c)(3)). That is why it is reasonable for a petitioner to request approval of an I-829 after waiting for one or two years. Thus, the USCIS delay in processing does not have to exceed the stated processing time on the USCIS website before filing an I-829 mandamus complaint.
Summary of Key Steps in Federal Court Mandamus Lawsuit
1. Drafting of Complaint
The written complaint is the legal document that sets out the jurisdiction, defendants, legal remedy.
7-10 days
2. Notice to Office of Legal Counsel of USCIS
We will serve the written complaint to USCIS and request an amicable resolution before the complaint is filed with the U.S. District Court.
60 days
3. Service of Complaint
If the complaint is not resolved amicably after 60 days of services, then the complaint is filed with the U.S. District Court, and the Government is issued formal notice that you have started a legal action against USCIS. The U.S. Department of Justice is also issued copy of the notice.
4. Response from the Government
USCIS and the U.S. Department of Justice will have 60 days from service to file a response. USCIS may challenge: jurisdiction, remedy sought, procedures, substance.
5. Possible Settlement Negotiation
U.S. Attorney may seek settlement by offering appropriate action by USCIS on plaintiffs' applications.
6. Motions
Government may move to have the entire complaint dismissed through summary judgment. Court has to decide whether to allow the complaint to proceed to trial.
7. Trial
Formal court hearing or trial scheduled before the Judge. Generally, I-829 mandamus complaints will not proceed to a trial. They will settle at Step 4 and Step 5.
Trials are rare. Most mandamus complaints do not go to trial. If the mandamus action goes to trial, the court will issue a decision and, if the action is successful, will order USCIS to comply with the court order (i.e., green card production).
If the case goes to trial additional legal fees will apply. Trials are rare.
Approximately 180+ days from filing complaint
Common Questions
1. Will filing mandamus complaint for my I-829 harm me?
No. It is lawful and permissible in the U.S. to file a mandamus complaint and the USCIS will not take negative action against simply because the person filed a mandamus complaint.
2. Is the I-829 mandamus complaint likely to go to a trial?
No. Trials are rare. Most mandamus complaints do not go to trial. The USCIS agrees to settle the complaint at Steps 4 and 5. Additional fees may apply if the case goes to trail.
3. Will mandamus always result in approval of my visa petition?
A successful mandamus complaint will result in a faster USCIS decision, but that decision does not have to be an approval. It can be a Request for Evidence or Notice of Intent to Deny. USCIS does not generally deny petitions without first issuing a Request for Evidence or Notice of Intent to Deny.
Contact Donoso & Partners
We are available to provide you with guidance on mandamus a complaint for your EB-5 case. Please contact Donoso & Partners in English or Chinese by email at eb5@donosolaw.com to coordinate an appointment. For EB-5 news visit www.donosolaw.com
Donoso & Partners, a leading immigration law firm based in Washington, D.C., will continue to report on developments regarding the immigration law and policy through our news section of donosolaw.com.
SCHEDULE A CONSULTATION TODAY.
Donoso & Partners, LLC provide assistance with review and advice regarding eligibility for visas to the U.S. or Canada.