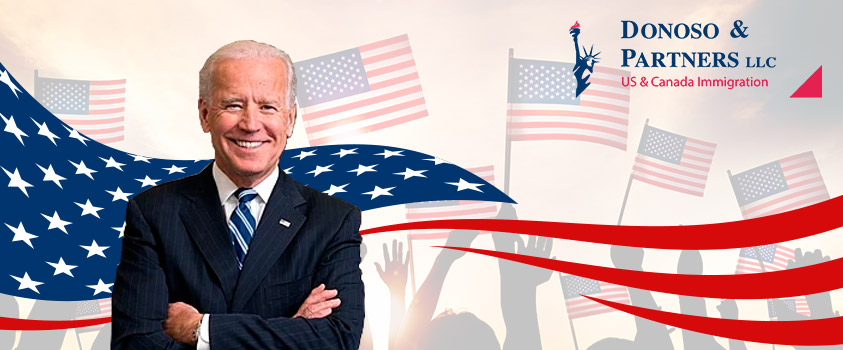 21 Jan

President Biden's Immigration Reform Plan

Washington, D.C., January 21, 2021: We now know the name of President' Joseph Biden's new immigration reform proposal: the U.S. Citizenship Act of 2021.

The new president wasted no time in taking action on immigration, signaling an intention to make it an important issue during his administration. On his first day in office, President Biden signed Executive Orders revoking President Trump's notorious "Muslim Ban" executive order and stopping construction of the border wall.

The larger initiative, however, is captured by the U.S. Citizenship Act of 2021. This bill is a large-scale reform and modernization of the US immigration system. It is expected to be released shortly. For the time being, the U.S. Citizenship Act of 2021 is expected to have the following features:
Provide pathways to residency and eventually citizenship for the millions of undocumented workers in the United States. This includes DACA applicants and other people who have been physically present and working in the US illegally for decades.
Shorten visa waiting lists for employment-based EB2 and EB3 beneficiaries. This has been an extraordinary problem that has affected skilled workers – particularly from India and China – for over a decade.
Improve family re-unification green cards to reduce delays and reduce fraud.
Recommit the U.S. to a workable system for accepting refugees and asylum seekers.
Improve border security using modern flexible technology systems along with improved physical barriers in selected areas.
Improve labor protections for domestic workers.
Address the root causes of immigration to the United States and re-shape relations with countries that send illegal workers to the U.S. to improve local conditions in those countries.
The key concept of the U.S. Citizenship Act of 2021 is this: solve the festering problem of undocumented workers and visa waiting lists, while modernizing the U.S. immigration system in a way that allows future immigration to support economic growth and family reunification.
Employers are likely going to experience a significant change at the end of this process: the need to register for federal employment verification through expansion of the successful E-Verify system.
Donoso & Partners, a leading immigration law firm based in Washington, D.C., will continue to report on developments regarding the immigration law and policy through our news section of donosolaw.com.
SCHEDULE A CONSULTATION TODAY.
Donoso & Partners, LLC provide assistance with review and advice regarding eligibility for visas to the U.S. or Canada.