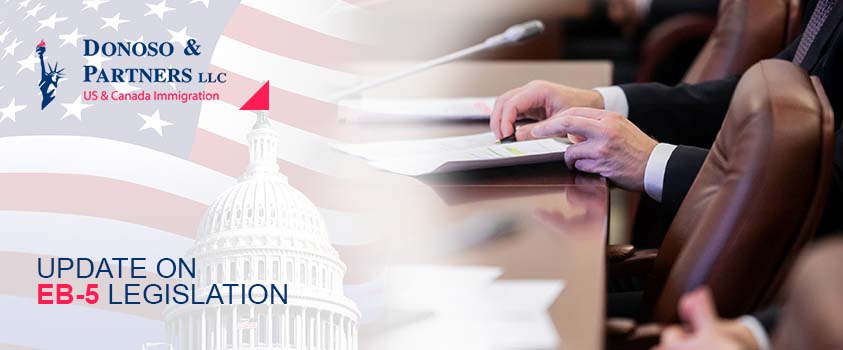 22 Oct

Update On EB-5 Legislation: Current Status

Washington DC, October 22, 2021: We provide below a short summary of the state of negotiations in the US Congress to renew the EB-5 Regional Center Program.
1. EB5 Program Renewal
According to all reports that Donoso & Partners has received regarding current legislative negotiations, the EB5 program appears to be on track for renewal in late November or the first week of December of 2021.
Background on this has two parts: (a) political negotiations regarding the EB5 regional center program, and (b) political negotiations regarding other more prominent legislation in Congress.
a. Political Negotiations Re EB-5
The reason the EB5 Regional Center program ("Program") lapsed is because elected officials and the EB-5 regional center industry could not reach agreement on the features of a renewed Program. Senators Grassley and Leahy, on the one side, had heavily favored new legislation would reform the Program by imposing more strict management and reporting on EB-5 regional centers. The EB-5 regional center operators objected that such an approach would not improve key problems for investors, which include long visa waiting lists and long processing times. The negotiations failed, and on June 24, 2021, the US Senate refused to pass the draft legislation proposed by Senators Grassley and Leahy. Thus, the Program lapsed on June 30, 2021.
b. Political Negotiations Re More Prominent Legislation
The only way to get the EB5 draft legislation approved is to attach it to a more prominent piece of legislation that will be passed by a bare majority of 50+1 votes in the Senate. The only types of laws that are allowed to be passed with such bare majorities are laws to determine the amount of money that the US government will spend between October 1 and Sept. 30 of the next year. These are called "spending bills". Immigration laws have typically been attached to the Department of Justice spending bill.
The problem that we have faced since September 2021 is that the US Congress – while controlled by one party (Democratic party) is not of one mind on these spending bills. There have been lengthy and difficult negotiations among Democratic elected officials regarding how much money to spend on various programs. These negotiations have focused on the $3.5 trillion infrastructure bill. That is the key piece of legislation that has occupied the bulk of attention among Democratic elected officials.
In practice, any EB-5 reform legislation that will restart and extend the Program will have to be attached to a spending bill only after the Democratic party reaches agreement on these spending bills.
Thankfully, this week has led to progress in their negotiations and it is likely that they will reach agreement before December 3, 2021. On December 3, 2021, the current temporary spending bill (called a "continuing resolution") expires.
Once the spending bills are agreed upon, the US Congress will vote on these bills and – we expect – the Program will be restarted.
The restarted program should last for 5 years and have a minimum investment in high unemployment areas of $700,000 approximately. It will not apply retroactively.
2. EB5 Case Processing Times
Visa processing times are their worst (and longest) point ever. This is a problem for all visa programs across all visa categories. It does not just apply to the Program. It is unlikely that visa processing times will get worse than they are today, with I-526 visa processing taking approximately 2.5 to 3 years and similar processing for I-829 petitions. US Consulate processing is taking a long time because of COVID19 and I-485 adjustment of status applications are taking 1 to 1.5 years. Fortunately, US Consulates are improving operations, though the US Department of State cannot grant an EB-5 visa to an applicant based on a regional center investment until the Program is renewed.
USCIS refused to process I-526 petitions based on regional center investments during the lapse in the Program. The main reason for this decision is because USCIS is opposed to accepting new I-526 petitions for regional center cases at the $500,000 investment threshold. Thus, USCIS only allowed EB5 direct investment petitions to be filed since June 30, 2021 because those cases are not based on the Program. It is important to recall that the EB-5 Regulations that created the $900,000 investment threshold were adopted on November 21, 2019, but were voided by a US court on June 22, 2021. Thus, USCIS decided that the best way to stop a flood of regional center cases at $500,000 to suspend all visa processing for regional center cases. It was a bit of a blunt instrument. USCIS is not known for its subtlety.
3. Worst-Case Scenarios
The worst-case scenario for EB5 investors is that the Program is not renewed and USCIS will then eventually deny all pending cases — regardless of when they were filed. It could affect anywhere from 10,000 to 20,000 pending applicants and their families. That scenario is so bad that we do not expect that it will come to pass.
The second worst-case scenario is that the US Congress would pass a law granting all investors with pending EB-5 cases filed before June 30, 2021, the opportunity to complete their EB5 visa process under current rules. The Program would be closed for all other applicants. This scenario has actually been discussed briefly among the EB5 industry and elected officials in Congress and is considered an option only if all other negotiations prove unsuccessful.
Based on the information that we have at present, these two worst-case scenarios are not likely.
4. Staying Informed
Please sign up for our newsletter at donosolaw.com to stay informed of events regarding the EB-5 program and US immigration. We are constantly reporting on current events in immigration law and especially the EB5 program.
Donoso & Partners, a leading immigration law firm based in Washington, D.C., will continue to report on developments regarding the immigration law and policy through our news section of donosolaw.com.
SCHEDULE A CONSULTATION TODAY.
Donoso & Partners, LLC provide assistance with review and advice regarding eligibility for visas to the U.S. or Canada.