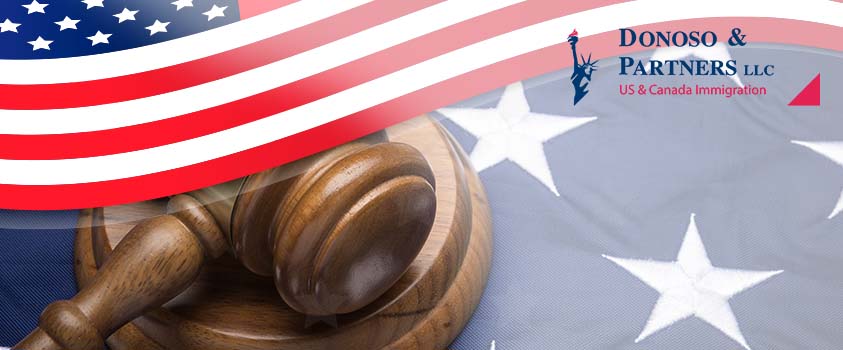 29 Apr

US Supreme Court Issues Decision on Stop-Time Rule

Washington, D.C., April 29, 2021: Today, the US Supreme Court issued an important decision interpreting the so-called "stop-time rule".

Since 1996, US immigration law under the Illegal Immigration Reform and Immigrant Responsibility Act has provided discretionary relief to foreign persons ordered removed if they can show that they have continuous presence in the US for at least 10 years. 8 U. S. C. §1229b(b)(1). The "stop-time rule" is a limitation on that type relief. The "stop-time rule" provides that the period of continuous presence "shall be deemed to end . . . when the alien is served a notice to appear" before an Immigration Court in removal proceedings under §1229a. §1229b(d)(1). Thus, if a foreign person was properly served with a notice to appear, before they accumulated 10 years of continuous presence in the US, that person would be unable to request relief from removal.

A controversy arose regarding what constitutes a proper "notice to appear" and what information must be included in the "notice to appear". The notice to appear is required to state the charges against the foreign person and the time and place at which the removal proceedings will be held. §1229(a)(1). In previous cases, the US Supreme Court had already held that a notice to appear that omits any of this statutorily required information does not trigger the stop-time rule. See Pereira v. Sessions, 585 U. S. ___.

In this new case of Niz-Chavez v. Garland, the DHS ordered the removal of petitioner Agusto Niz-Chavez and sent him a document containing the charges against him. Two months later, it sent a second document, providing Mr. Niz-Chavez with the time and place of his hearing before an immigration judge.

The DHS contends that because the two documents, when put together, were sufficient to constitute a proper notice to appear that contained all required information under the applicable statute. Thus, DHS held that Mr. Niz-Chavez's continuous presence in the US stopped when he was served with the second document.

The Supreme Court, however, disagreed. It held, in conformity with prior precedent, that a notice to appear sufficient to trigger the IIRIRA's stop-time rule is a single document containing all the information about an individual's removal hearing specified in §1229(a)(1).

Donoso & Partners, a leading immigration law firm based in Washington, D.C., will continue to report on developments regarding the immigration law and policy through our news section of donosolaw.com.
SCHEDULE A CONSULTATION TODAY.
Donoso & Partners, LLC provide assistance with review and advice regarding eligibility for visas to the U.S. or Canada.