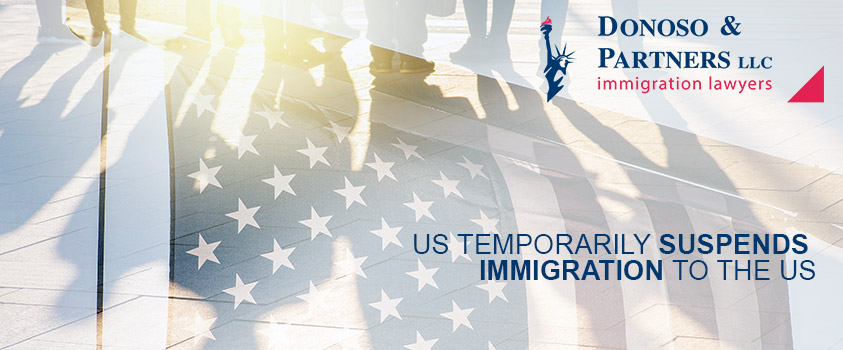 21 Apr

US Temporarily Suspends Immigration to the US

Washington, D.C., April 20, 2020: President Trump by Twitter announced his intention to adopt an executive order that temporarily suspends all immigration to the United States. Observers expect the executive order to be signed on Tuesday, April 21, 2020.

The President ostensibly is using this measure to bolster hiring of U.S. workers during the significant slow-down in the U.S. economy caused by the COVID-19 crisis. Roughly 22 million U.S. workers have filed for unemployment benefits during the COVID-19 crisis. No further details of this initiative are available at present.

Starting March 20 , 2020, the U.S. temporarily closed all U.S. Consulates abroad for all visa processing. This prevents any person from scheduling a visa appointment at a U.S. Consulate abroad except for certain farm workers and emergency situations. Thus, at the time of the new executive order, U.S. Consulates were already suspending most visa processing.

The new executive order may broaden that impact to include USCIS processing within the U.S. of any visas – though no details are available because the only pronouncement from the White House has been the President's Tweet.

In 2019, the State Department issued approximately 460,000 immigrant visas last year (i.e., green cards), and USCIS processed nearly 580,000 green card approvals for foreigners who applied for permanent residency within the U.S.

Our law firm will provide more details as they become available.

Donoso & Partners, a leading immigration law firm based in Washington, D.C., will continue to report on developments regarding the immigration law and policy through our news section of donosolaw.com.
SCHEDULE A CONSULTATION TODAY.
Donoso & Partners, LLC provide assistance with review and advice regarding eligibility for visas to the U.S. or Canada.