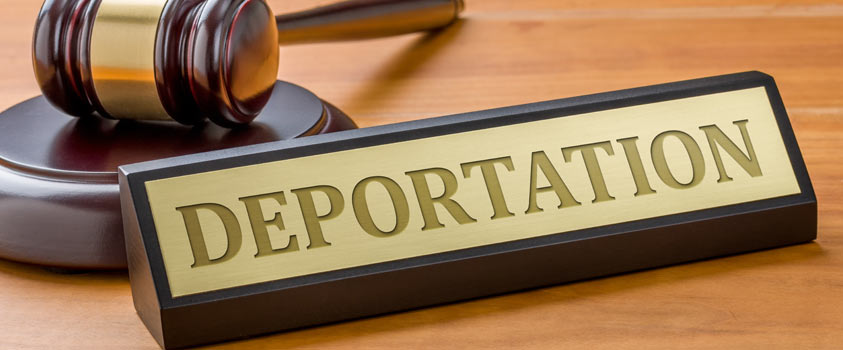 23 Jul

USCIS Outlines Sweeping Expansion of Removal Initiation Procedures

Washington, DC – July 20, 2018: Last month, the U.S. Citizenship and Immigration Services ("USCIS") announced a drastic expansion of grounds for initiating deportation and removal proceedings against foreigners. The new policy allows USCIS to directly issue Form I-862, Notice to Appear ("NTA"), which marks the beginning of removal proceedings, under its own authority, and to issue them for any denied immigration benefit where the foreigner is deemed to be unlawfully present in the U.S. The policy has the potential to require many foreigners to remain in the U.S. to attend Immigration Court procedures in the face of lengthy procedural delays, or else incur a 5-year bar on re-entering the U.S.

In a June 28 Policy Memorandum, USCIS overturned a 2011 policy wherein it referred removal or deportation cases to U.S. Immigration and Customs Enforcement ("ICE"). Under its revised policy, USCIS now reserves the authority to directly issue NTAs on its own without consultation with ICE, broadening its agency function from an adjudicatory role to an enforcement role.

Additionally, USCIS expanded the circumstances justifying NTA issuance. The USCIS Policy Memorandum was originally drafted to support Executive Order 13768, Enhancing Public Safety in the Interior of the United States, which prioritized the removal of aliens tied to criminal, espionage, or terrorist activities. However, the new USCIS policy memo stands to snare even those foreigners who have had a petition denied for any reason, provided that the foreigner is deemed to be unlawfully present in the U.S. at the time of the denial.

This change in policy, which is addressed without elaboration in two brief sentences in the Policy Memorandum, has the potential to carry profound legal and immigration consequences for many categories of foreigners, including H-1B specialty occupation workers, L-1 managers and executive transferees, and foreign students in several classifications. The employment categories of H-1B and L-1 workers allow for up to seven years of U.S. presence, which may be extended after filing a green card immigrant petition. However, under the new NTA policy, if such a foreigner's immigrant petition is ultimately denied, they would be deemed unlawfully present at the date of denial if they have exceeded the original H-1B or L-1 category's seven-year maximum limit, and could be subject to immediate removal procedures with an NTA issuance. Given the growing delays in H-1B and L-1 processing, caused in part by increasingly stringent reviews of initial petitions as well as de novo review of extension petitions, a foreigner in either category could adhere to immigration rules for many years without knowing whether their final case disposition may result in a denial and immediate unlawful presence via an NTA.

Previously, if a foreigner received a green card petition denial, and if their non-immigrant status had used up its original time limit, this foreigner could still depart the U.S. on their own with reduced or no penalties if they did so in a timely fashion. The new policy could allow the USCIS to immediately issue an NTA along with its denial of the green card petition, and any foreigner who departs the U.S. before attending the NTA hearing would accrue an automatic 5-year bar to immigration petitions. A foreigner who attends the NTA hearing, and whose request for voluntary departure is denied, would then be liable for unlawful presence dating potentially from the denial of their green card to the date of the NTA hearing. Unlawful presence of 180 to 365 days carries a 3-year immigration bar; unlawful presence of over 1 year carries a 10-year immigration bar.

Aside from green card petitioners, another category facing increased procedural risks are overseas students under the F-1, M-1, and J-1 categories. In a Policy Memorandum published 05/10/2018, the USCIS proposed a rule change whereby a student's period of unlawful presence will automatically begin on the day after any student fails to abide by the requirements of their foreign study visa category. This policy, which is planned to take effect starting 08/09/2018, replaced a prior longstanding policy from 1997 whereby a student would not begin to accrue unlawful presence until an official determination of status violation had been made. Combined with the broad expansion of NTA authority under USCIS' latest Policy Memorandum, the two policy shifts have the potential to subject foreign students to heavy and lasting immigration penalties if they fall below the necessary coursework or if they fail to meet the requirements of Optional Practical Training or Curricular Practical Training.

Aside from the class of foreigners who were unlawfully present in the U.S. following a denial of a petition, the Policy Memorandum also includes the following security-related categories of foreigners:
National Security Cases, suspected of terrorism or espionage;
Cases where NTAs are required by statute or regulation, including Conditional Permanent Residence terminations due to denials of Form I-751 for foreigners who obtained residency through marriage, or Form I-829 for foreigners who obtained residency through EB-5 investment;
Cases involving fraud, misrepresentation, or abuse of public benefits: USCIS will issue an NTA when it denies such a petition (even if the denial was for other grounds, such as abandonment) if USCIS determines that fraud, misrepresentation, or abuse of public benefits has occurred;
Cases involving criminal charges, including foreigners convicted of a crime, charged with a crime, and those who have committed acts that constitute a crime even if not formally charged or convicted.
Immigration law groups have responded to this policy change, voicing concerns over its potential effects on family-based immigration, business and tourist visitors, and humanitarian categories such as Deferred Action for Childhood Arrivals ("DACA") and Domestic Abuse Survivors and Crime Victims.
This information is not intended to constitute legal advice and should not be relied upon in lieu of consultation with I.A. Donoso & Associates immigration attorneys. I.A. Donoso & Associates, LLC is a law firm based in Washington, D.C. and is recognized as a leading immigration law firm with expertise in visas for EB-5 investors, professionals, and academics.­
SCHEDULE A CONSULTATION TODAY.
I.A. Donoso & Associates provide assistance with review and advice regarding eligibility under EB-5 category.