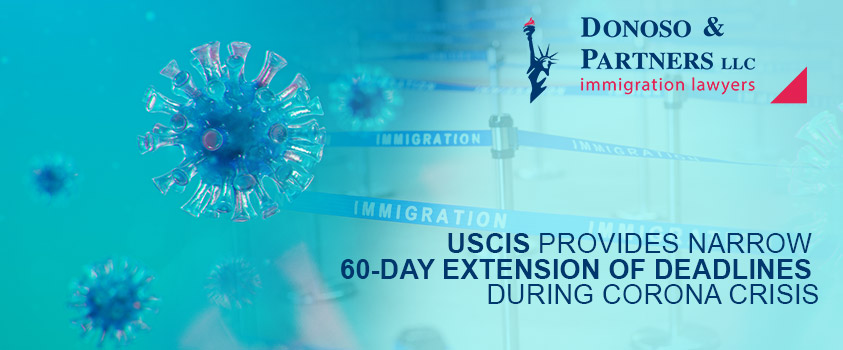 02 Apr

USCIS Provides Narrow 60-Day Extension of Deadlines During Corona Crisis

Washington, D.C., April 2, 2020: In response to the Coronavirus (COVID-19) pandemic, U.S. Citizenship and Immigration Services announced that it is adopting a measure to assist applicants and petitioners who are responding to requests for evidence (RFEs) and notices of intent to deny (NOIDs) dated between March 1 and May 1, 2020.

For applicants and petitioners who receive an RFE or NOID dated between March 1 and May 1, 2020, any responses submitted within 60 calendar days after the response deadline set forth in the RFE or NOID will be considered by USCIS before any action is taken.

This USCIS measure is helpful for some companies and applicants and is therefore welcome news during a very challenging time.

The measure, nevertheless, is surprisingly narrow. Instead of issuing a broad moratorium on filing deadlines for Extension of Status or expiry of valid visa status, USCIS limited relief to RFEs and NOIDs issued after March 1, 2020, and only during 60 days.

Given the spiraling gravity of the COVID-19 pandemic in the United States and abroad – including limitations on international travel, closure of U.S. Consulates abroad and closure of USCIS offices at home in the United States – the measure offered by USCIS appears to be far less than is merited by USCIS employees and fee-paying stakeholders in the immigration system.

Please visit uscis.gov/coronavirus for latest facts and other USCIS updates.

Donoso & Partners, a leading immigration law firm based in Washington, D.C., will continue to report on developments regarding the immigration law and policy through our news section of donosolaw.com.
SCHEDULE A CONSULTATION TODAY.
Donoso & Partners, LLC provide assistance with review and advice regarding eligibility for visas to the U.S. or Canada.