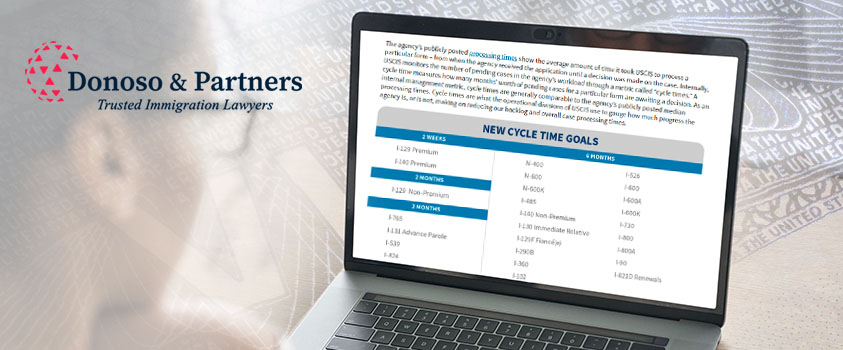 30 Mar

USCIS Takes Action Reduce Backlogs

WASHINGTON, March 29, 2022: The Biden Administration today announced new initiatives to reduce long processing times for hundreds of thousands of visa applications. These initiatives are set out in a new Final Rule released today to the public for comment.

First, U.S. Citizenship and Immigration Services ("USCIS") will set new agency-wide backlog reduction goals. Second, USCIS will expand the types of visa applications eligible for accelerated "premium processing" upon payment by applicants of an additional fee.

Outrageously long processing delays at USCIS became the norm during the last 2 years of the Trump Administration and through the first year of the Biden Administration. The culprit was primarily the COVID-19 pandemic, though several USCIS policy decisions during 2019-2020 were equally to blame.

Reducing Processing Backlogs

To reduce the agency's pending caseload, USCIS is establishing new internal cycle time goals this month. These goals are internal metrics that guide the backlog reduction efforts of the USCIS workforce and affect how long it takes the agency to process cases. As cycle times improve, processing times will follow, and applicants and petitioners will receive decisions on their cases more quickly. USCIS will increase capacity, improve technology, and expand staffing to achieve these new goals by the end of FY 2023.

The agency's publicly posted processing times show the average amount of time it took USCIS to process a particular form – from when the agency received the application until a decision was made on the case. Internally, USCIS monitors the number of pending cases in the agency's workload through a metric called "cycle times." A cycle time measures how many months' worth of pending cases for a particular form are awaiting a decision. As an internal management metric, cycle times are generally comparable to the agency's publicly posted median processing times. Cycle times are what the operational divisions of USCIS use to gauge how much progress the agency is, or is not, making on reducing our backlog and overall case processing times.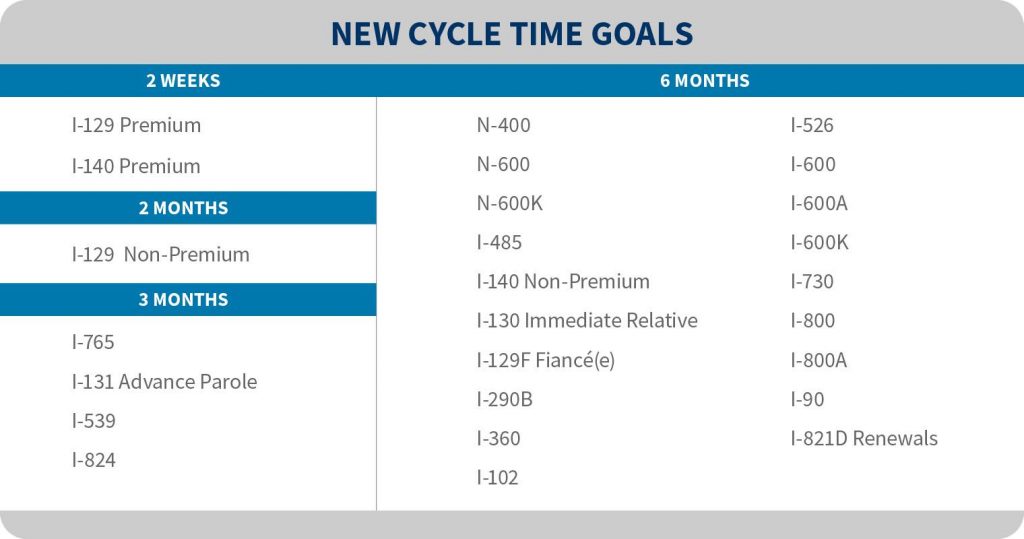 Expanding Premium Processing
Today the Department of Homeland Security (DHS) announced a final rule that aligns premium processing regulations with the Emergency Stopgap USCIS Stabilization Act. The rule codifies premium processing fees and adjudication timeframes provided by Congress.
Premium processing is an expedited adjudication service now available only to petitioners filing a Form I-129, Petition for a Nonimmigrant Worker, and to certain employment-based immigrant visa petitioners filing a Form I-140, Immigrant Petition for Alien Workers. This Final Rule expands the categories of forms ultimately eligible for premium processing services, including Form I-539, Application to Extend/Change Nonimmigrant Status; Form I-765, Application for Employment Authorization; and additional classifications under Form I-140.
Why I-539 Premium Processing?
Form I-539 is used by dependent family members who are lawfully in the US to request change of status or extension of their current visa status. Processing times were regularly in the 8 to 10 month range. Processing delays by USCIS needlessly caused hardship for immigrant workers by delaying adjudication of the visa process of their family members — leaving family members in legal limbo for months on end even though they were lawfully in the US.
Premium Processing for Employment Authorization Documents
Form I-765 is used for dozens of visa categories by lawful immigrants to seek temporary work authorization. Processing delays during 2020 passed the 10-12 month range. Among the egregious examples of processing delays: green card applicants reported receiving approval of their green cards before the I-765 application that was filed simultaneously.
Premium Processing of EB-2 National Interest Waivers and EB-1C Multinational Managers
USCIS plans to begin this phased implementation process by expanding premium processing eligibility to Form I-140 filers requesting EB-1 immigrant classification as a multinational executive or manager, or EB-2 immigrant classification as a member of professions with advanced degrees or exceptional ability seeking a national interest waiver.
More Efficient Processing of Regular I-765 Applications
Additionally, USCIS continues to make progress toward a temporary final rule currently named "Temporary Increase of the Automatic Extension Period of Employment Authorization and Documentation for Certain Renewal Applicants."
In recent months, USCIS has begin streamlining many EAD processes, including extending validity periods for certain EADs and providing expedited work authorization renewals for healthcare and childcare workers. The temporary final rule aims to build on this progress and to ensure certain individuals will not lose their work authorization status while their applications are pending.
Donoso & Partners, a leading immigration law firm based in Washington, D.C., will continue to report on developments regarding the immigration law and policy through our news section of donosolaw.com.
SCHEDULE A CONSULTATION TODAY.
Donoso & Partners, LLC provide assistance with review and advice regarding eligibility for visas to the U.S. or Canada.