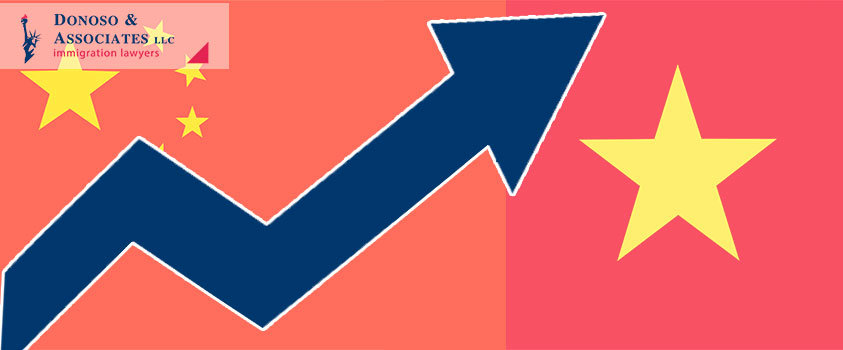 16 Mar

April Visa Bulletin Shows Jumps in China EB-2, Vietnam EB-5

Washington, D.C. – March 16, 2019: The U.S. Department of State recently published its monthly Visa Bulletin for April, showing modest progress in the EB-1 and EB-5 waiting lists, and welcome jumps for Chinese EB-2 and Vietnamese EB-5 visa categories.

EB-5 visas for Indians remained current and free from any waiting list, as the industry anticipates a cut-off date to appear around mid-year 2019. Vietnam-born EB-5 applicants saw a forward jump of five weeks, from a cutoff date of July 16, 2016 to August 22, 2016. Mainland China continued to see slow forward movement, progressing one week from Sept. 8, 2014 to Sept. 15, 2014.

The EB-1 category progressed one month forward to February 1, 2018 for all countries except China and India, which remained unchanged at February 22, 2017. For EB-2 visas, Chinese applicants also saw a three-month jump from January 1, 2016 to April 1, 2016.

I.A. Donoso & Associates, LLC, is a law firm based in Washington, D.C., and is recognized as a leading immigration law firm with recognized expertise in visas for EB-5 investors, professionals and academics.
SCHEDULE A CONSULTATION TODAY.
I.A. Donoso & Associates provide assistance with review and advice regarding eligibility under EB-5 category.