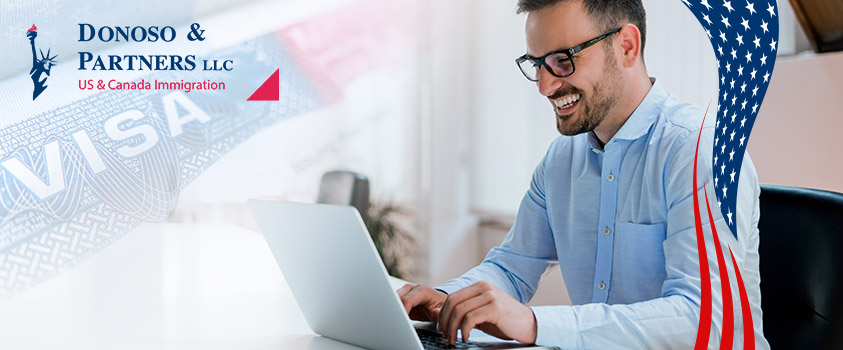 04 Feb

Are You Ready for the H-1B Visa Lottery 2021?

Why is there an H-1B Visa Lottery?

Annually, USCIS issues a maximum of 65,000 new H-1Bs, plus 20,000 H1Bs reserved persons holding a Master's or Ph.D. from a U.S. university. The popularity of the H-1B visa program is great.

Recent data confirms that annual demand for new H-1B visas more than double, and sometimes more than triple, the total number of new H-1B visas issued each year by the U.S. federal government.

In response, the U.S. federal government implemented an annual lottery in 2008 to randomly select new H-1B petitions eligible for one of the 85,000 new H-1B visas available each year. Employers seeking new H-1B visas are referred to as "cap-subject" employers.
Are All Employers Subject to the H-1B Lottery?
Not all employers are subject to the H-1B lottery. Employers who employ or seek to employ an H-1B worker that has already been granted an H-1B visa in the previous 6 years are not required to submit their visa petitions through the H-1B lottery. Those workers are referred to as "cap-counted" H-1B workers. For example, an employer seeking to hire an H-1B worker that is employed by another company (called a "change of employer"), is subject to the lottery in respect of that potential new worker. That same employer seeking to hire a worker who has never held an H-1B visa in the past six years, however, would likely have to submit an initial H-1B visa petition through the lottery system.
Another detail is that the annual H-1B lottery does not apply government research organizations; universities; non-profit research organizations; university-affiliated research entities, and university-affiliated non-profit entities. Those employers are referred to as "cap-exempt."
How Can My Company Participate in the H-1B Lottery?
The process is simple, but planning ahead of time is required to avoid mistakes:
Step 1: Employer creates short USCIS online profile to submit lottery entries electronically – usually between March 1, 2021 and March 20, 2021.
Step 2: Lottery opens, and employer submits profile for each worker entered into the lottery. Employer pays $10 registration fee online for each worker entered in the lottery (cannot be paid by worker).
Step 3: USCIS conducts lottery of workers entered between March 20 and March 31, 2021.
USCIS notifies selected employers after March 31, 2021.
Selected employers need to file the complete H1B petition within 90 days after selection.
Step 4: Complete H1B petition means (a) Labor Condition Application from the Department of Labor, (b) H1B Selection Notice; (c) completed forms, (d) correct fees; and (e) supporting evidence.
Step 5: Requests for Evidence are common – be prepared!
Step 6: Approval or denial. Approved H-1B workers can start work on October 1, 2021.
Does the Lottery Favor Some Candidates Over Others?
Yes. The Trump Administration implemented one – and potentially two — modifications to the H-1B lottery that skew the H-1B lottery's selection process in favor of:
1. Workers that hold a U.S. Master's Degree or U.S. Ph.D. Degree, and
Starting in 2019, USCIS conducts the H1B lottery to favor Master's cap applicants.
It works like this:
First: the H1B lottery draws all 20,000 Master's cap applicants.
Second, the H1B lottery draws the 65,000 regular cap visas from
(a) regular cap applicants, and
(b) Master's cap applicants not selected in the initial Master's lottery.
By running the lottery with all Master's cap applicants first, USCIS increased by 16% the chance of a Master's cap worker being selected in the lottery.
2. Workers whose employers pay Level 4 or Level 3 wages (the two highest wage levels out of 4).
This change was implemented by the Trump Administration during 2020, was litigated by employers in federal court, and then was re-introduced in a revised format on January 6, 2021 – two weeks before the end of the Trump Presidency.
The Trump H1B rule on wage levels was to take effect on March 9, 2021.
President Biden issued an Executive Order on January 20, 2021, his first day in office, that placed a "regulatory freeze" on all draft or pending Regulations and administrative policy actions until Biden's new Secretaries and new agency directors were appointed.
Presently, employers are awaiting the Biden Administration's plans regarding the H-1B wage-level rule.
We expect this rule to be suspended for the 2021-2021 H-1B cap.
Nevertheless, we cannot rule out that a revised version of the wage-level rule may yet return – even if temporarily – during the recovery phase of the COVID19 pandemic.
What Should Employers Do Now to Prepare?
The steps to prepare for the H-1B lottery are straightforward:
Select potential candidates.
Prepare background documents for H-1B lottery registration.
Pre-screen jobs and candidates for key H-1B issues, including:
Specialty occupation analysis of job duties.
Specialized knowledge analysis of candidate's university education.
Degree equivalency for candidates.
Job site analysis.
Wage-level analysis.
Past immigration history of candidates.
Donoso & Partners, a leading immigration law firm based in Washington, D.C., will continue to report on developments regarding the immigration law and policy through our news section of donosolaw.com.
SCHEDULE A CONSULTATION TODAY.
Donoso & Partners, LLC provide assistance with review and advice regarding eligibility for visas to the U.S. or Canada.