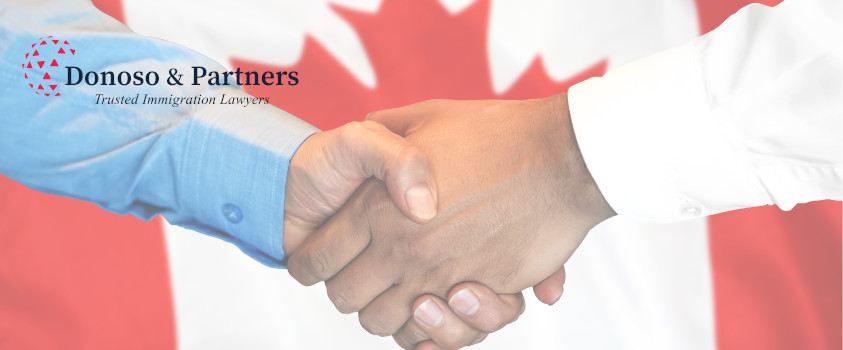 03 Nov

Clients Receive Approval in 3 Months for Canada C-11 Program

We are proud to announce that Donoso & Partners has assisted several clients this year to obtain work permits in Canada within 3 months of processing timing for C-11 Program.

This is a federal program which offers an immigration pathway for people with an intention to start their business in Canada and receive a Permanent Residency (PR) on this basis.
What is a C-11 Work Permit?
C-11 is a Temporary Work Permit (TWP) that allows business owners or professionals with business management experience to start a business in Canada. The Applicant should be able to prove that the business would generate a significant economic, social, or cultural benefits to Canadian citizens or permanent residents.
You can receive a TWP within 3 months. The benefit of the program is that your spouse and unmarried children under age 22 can accompany you to Canada. Spouse is eligible for an Open Spousal Work Permit (OSWP) and children under the age of 18 are eligible for study permits.
Business owners in this category are exempted from Labour Market Impact Assessment (LMIA) requirement.
Does C-11 TWP offer a Pathway to PR?
Yes, with a C-11 work permit, you have an advantage to apply for Permanent Residency (PR) under the Federal Skilled Worker (FSW) due to the additional points which are awarded once the  program requirements are met. You can expect to receive permanent residency typically within 2 years from the date of arriving on a TWP.
Do I Need to meet a Minimum Net-Worth or Investment Criteria?
No, the attractive feature of this program is that you are not subject to a minimum net-worth requirement. Also, there is no minimum investment amount prescribed. You need to ensure that the capital investment in your Canadian company is sufficient to establish and operate your business in Canada.
Donoso & Partners, a leading immigration law firm based in Washington, D.C., with offices in Toronto will continue to report on developments regarding immigration law and policy through our news section of donosolaw.com. Contact us to learn more about PR through the C-11 Program.
SCHEDULE A CONSULTATION TODAY.
Donoso & Partners, LLC provide assistance with review and advice regarding eligibility for visas to the U.S. or Canada.