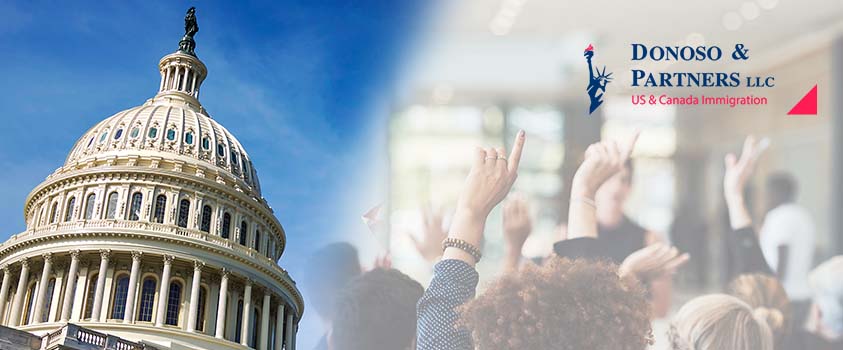 09 Sep

Democrats Begin Push for Immigration Reform through Budget Reconciliation

Washington, D.C., September 9, 2021: Reports indicate that Congressional leadership (Majority Leader Chuck Schumer of New York; Speaker Nancy Pelosi in the House) are planning on attaching immigration reform legislation to the must-pass spending bills that will be adopted in October 2021 to keep funding U.S. government operations.

The first step in that process is for Senate leaders to engage directly with the Senate's parliamentarian (i.e., referee of procedural rules) to reach agreement on which legislative provisions can be passed through the process known as reconciliation. Reconciliation is a budget process that allows the Congress to pass spending bills to fund US government operations with a 50+1 bare majority.

Democrats presently hold 50 seats in the Senate with 50 votes. The Democratic majority depends on mustering all 50 Democratic Senators, plus the deciding vote of Vice President Kamala Harris who is President of the U.S. Senate.

Thus, Senate Democrats will be seeking to convince the Senate parliamentarian on whether Democrats can include various immigration bills, including a pathway to legal status for certain undocumented immigrants, in their $3.5 trillion social spending plan or other spending bills to fund U.S. government operations.

A final decision from the Senate's parliamentarian could drag well into October. It is worth noting that past governments have indeed including immigration bills to spending bills.

Democrats view the reconciliation process as the last solution to pass immigration measures during 2021. The Republican Party opposition, who hold 50 seats in the Senate, has already stated that they would not support any immigration reform proposals (…supported by Democrats!). Such being the reality of US Senate voting, it is very unlikely that the Democratic leadership in the Senate will be able to muster the 60 votes required to overcome the filibuster rule.

As the Senate enters the final months of President Biden's first legislative term in office, budget reconciliation appears to be their best opportunity to enact immigration reform.

Donoso & Partners, a leading immigration law firm based in Washington, D.C., will continue to report on developments regarding the immigration law and policy through our news section of donosolaw.com.
SCHEDULE A CONSULTATION TODAY.
Donoso & Partners, LLC provide assistance with review and advice regarding eligibility for visas to the U.S. or Canada.