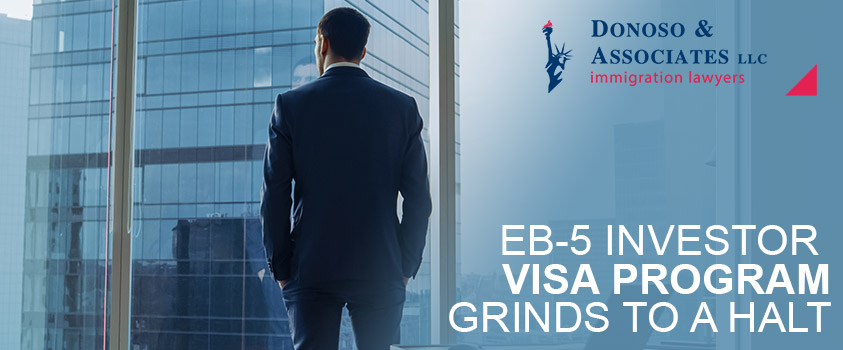 16 Jan

EB-5 Investor Visa Program Grinds to a Halt

Washington, D.C., January 16, 2020: The EB-5 Immigrant Investor visa program has unofficially ground to a halt.

This did not happen overnight.

Data released this week by USCIS clearly demonstrates that the popularity of the EB-5 immigrant investor visa program peaked in 2015 and 2016, with approximately 14,000 new visa petitions filed each year (primarily by applicants from mainland China). Since then, the number of applicants fell to approximately 6,400 in 2018 and, most recently, approximately 4,200 in 2019.

The EB-5 immigrant investor visa program is intended to attract investment into the U.S. Any reduction in the number of visa petitions filed means that the U.S. is losing out on potentially millions – if not billions – of dollars of foreign investment.

There are two reasons for the drop in visa usage from 14,000 in 2016 to merely 4,200 in 2019.

First, the EB-5 program has been a victim of its own popularity. A wave of investors from mainland China who adopted the EB-5 program early, led eventually to an estimated waiting list for EB-5 visas for mainland China investors that may exceed 10 years. Investors, who generally invest all of their capital when their visa application is filed with USCIS, balked at the idea of waiting 10 years before setting foot in their intended new homeland. Naturally, the waiting list for mainland China led to significantly lower demand from Chinese applicants for EB-5 visas.

Second, the USCIS and Department of Homeland Security adopted new regulations on November 21, 2019, that hit the EB-5 program with a double-whammy.

(1) Increased Investment Costs. The capital investment thresholds nearly doubled. The general minimum investment threshold went from $1,000,000 to $1.8 million, and the reduced minimum investment in high unemployment areas and rural areas increased from $500,000 to $900,000. Since these higher investment amounts were imposed without any other benefit – such as reduced visa waiting lists – investors reacted by moving away from the program.

(2) Incomplete Regulations. The new EB-5 regulations centralized determination of high unemployment areas in the hands of the federal Department of Homeland Security. The real blow to the EB-5 program is the fact that the new EB-5 regulations did not include any rules or procedures on how to obtain such a designation from the Department of Homeland Security.

De facto, the only way to file an EB-5 visa petition at present is to pay the higher investment amount of $1.8 million – which foreign investors are rarely willing to. Thus, for practical purposes, the new EB-5 regulations effectively shuttered the entire program.

We await news from the Department of Homeland Security on the much-needed new Targeted Employment Area application form.

In the meantime, a successful visa program that brought $35.6 billion in investment to the U.S. in the 10-year span of 2008-2018 (according to industry group IIUSA), now sits idle.

Donoso & Associates, a leading immigration law firm based in Washington, D.C., will continue to report on developments regarding the immigration law and policy through our news section of donosolaw.com.
SCHEDULE A CONSULTATION TODAY.
I.A. Donoso & Associates provide assistance with review and advice regarding eligibility for visas to the U.S. or Canada.