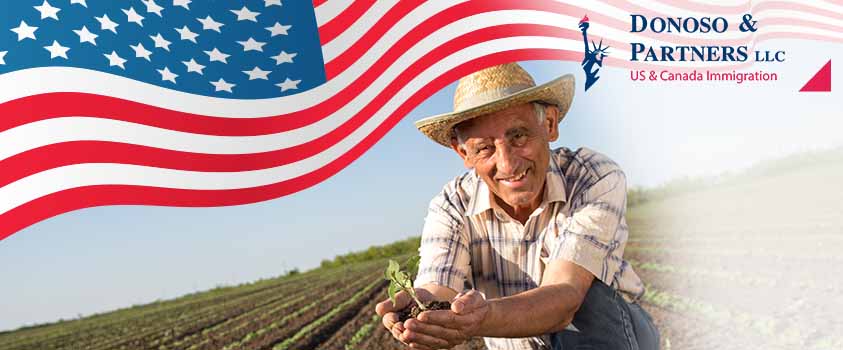 19 Mar

House Seeks Legal Status for Farm Workers

Washington, D.C., March 19, 2021: Yesterday, the US House of Representatives passed a Bill seeking to grant legal status to undocumented farm workers. The Bill is named the Farm Workforce Modernization Act. The Bill is part of President Biden's initiatives to improve the situation of undocumented workers in the US.

Background

The COVID19 pandemic brought the plight of undocumented farm workers into sharp focus. The US federal government designated all farmworkers and crop hands as Essential Workers — even though these same workers did not have legal status in the US, and the Trump Administration had applied a strict deportation policy on undocumented workers.

The Bill

The Bill has the potential to grant legal visa status in the US to an estimated 1 million undocumented farmworkers and their children. The Bill would allow undocumented farm workers to apply for legal status after working in agriculture for at least 180 days over two years.

The House voted on bipartisan lines with support from Democrats and Republicans, 247 in favor to 174 votes against.

The Senate

Next, the Bill will head to the US Senate for consideration.

It faces an uncertain future because the Republican members of the Senate overwhelmingly oppose this bill. The US Senate operates under the "filibuster" rule, that requires at least 60 votes in favor to move a bill to a final vote. The Senate is presently split 50-50 between Democrats and Republicans, with Vice President Kamala Harris, a Democrat, holding the deciding vote. Thus, Democrats do not have a sufficient majority to pass the Farm Workforce Modernization Act without support from Republicans.

Unfortunately, over the past 20 years, Republicans have opposed most immigration legislation that seeks to offer legal status to any undocumented immigrants.

Donoso & Partners, a leading immigration law firm based in Washington, D.C., will continue to report on developments regarding the immigration law and policy through our news section of donosolaw.com.
SCHEDULE A CONSULTATION TODAY.
Donoso & Partners, LLC provide assistance with review and advice regarding eligibility for visas to the U.S. or Canada.