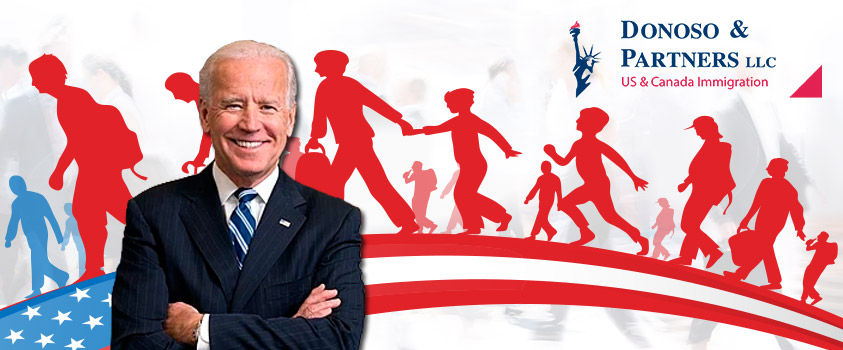 21 Jan

President Biden Halts Deportations for 100 Days

Washington, D.C., January 21, 2021: President Biden issued an executive order on the evening of January 21, 2021, that suspended U.S. Government actions to deport immigrants for the next 100 days.

This unprecedented initiative was issued on President Biden's first day in office – signaling a strong desire to tackle the thorny issue of immigration in the U.S. Nevertheless, this is a key campaign promise for President Biden. It also reflects a marked change from President Obama's unsuccessful efforts at immigration reform which involved mass deportations but no new legislation (other than the welcome DACA initiative).

The Executive Order requires the Department of Homeland Security (DHS) to halt deportations starting on January 22, 2021. The moratorium will apply to any noncitizen in the U.S. who has been ordered deported by an immigration judge, unless they arrived after November 1, or if they voluntarily gave up their right to stay in the U.S. with full knowledge of the consequences and the opportunity to obtain legal representation.

The moratorium on deportations will be used by DHS to conduct a "review and reset enforcement priorities". The review will likely lead to prioritizing deportation of immigrants with serious criminal convictions, and giving low priority to deportation of undocumented immigrants who have been physically present in the U.S. for years – even decades.

"The pause will allow DHS to ensure that its resources are dedicated to responding to the most pressing challenges that the United States faces, including immediate operational challenges at the southwest border in the midst of the most serious global public health crisis in a century," the agency said.

By contrast, President Trump's policy was essentially to accelerate deportation of all immigrations who are immigration court proceedings.

Nevertheless, the new Executive Order makes clear that the moratorium does not apply to noncitizens who have engaged in terrorism, espionage or are suspected of doing so, or if they otherwise pose a threat to national security.

Donoso & Partners, a leading immigration law firm based in Washington, D.C., will continue to report on developments regarding the immigration law and policy through our news section of donosolaw.com.
SCHEDULE A CONSULTATION TODAY.
Donoso & Partners, LLC provide assistance with review and advice regarding eligibility for visas to the U.S. or Canada.