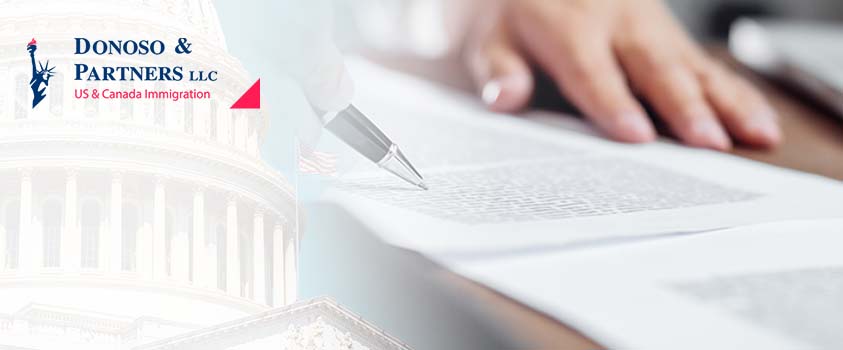 21 Sep

Senate Parliamentarian Rejects Including of Immigration Provisions in Budget Reconciliation Bill

Washington, DC, September 20, 2021: Senate parliamentarian Elizabeth Mac Donough, has ruled against Democrat's efforts to include a massive immigration reform effort in their US$ 3.5 trillion proposed spending bill, causing the party a setback that very likely closes the door on efforts to include a pathway to citizenship in the partisan legislation.

Democrats were charged with proving that immigration reform would have a direct budgetary impact to allow such an issue to be included in a budget reconciliation bill. This is crucial because the budget reconciliation bill was the only way the Democrats could have passed immigration legislation in a Senate that is divided 50-50 as a way to avoid the supermajority filibuster rule.

Democrats argued more than a week ago before Mac Donough, asserting that a pathway to citizenship for 8 million immigrants would raise the budget deficit by about US$ 139 billion. They said four categories would be considered for citizenship: Deferred Action for Childhood Arrivals recipients, those with Temporary Protected Status, farm workers and other essential workers. Democrats also argued that the reforms could add US$ 150 billion in spending to the U.S. economy every year and grow the nation's gross domestic product by US$ 1.5 trillion over the next decade. Thus, such an impact would be the rationale for including it in the reconciliation process, which is reserved for budgetary legislation. That process allows Democrats to pass legislation with a simple majority, sidestepping a filibuster rule.

Under Senate rules, most legislation requires the affirmative vote of 60 Senators to pass to a vote on the floor. The 60-vote threshold is known as the filibuster rule. Spending bills, however, can pass to a vote on the floor of the Senate with approval of 50 Senators. This is known as passing a spending bill through "reconciliation". Reconciliation is reserved for policies that have a direct budgetary impact — increasing or lowering the federal government's tax revenue and spending. Reconciliation is not intended to make major policy changes.

In her ruling, Mac Donough said such an immigration policy change would "far outweigh the budgetary impact scored to it and it is not appropriate for inclusion in reconciliation." "The reasons that people risk their lives to come to this country – to escape religious and political persecution, famine, war, unspeakable violence and lack of opportunity in their home countries – cannot be measured in federal dollars."

Now, Democrats face an uphill battle without enough votes in the evenly divided Senate to pass any such reform without help from Republicans. Many immigration advocate groups had pinned their hopes on the legislation as their best shot in years to pass immigration reform. They, along with Democrats, pointed to a 2005 reconciliation bill that included immigration reform as setting precedent for the move.

Donoso & Partners, a leading immigration law firm based in Washington, D.C., will continue to report on developments regarding the immigration law and policy through our news section of donosolaw.com.
SCHEDULE A CONSULTATION TODAY.
Donoso & Partners, LLC provide assistance with review and advice regarding eligibility for visas to the U.S. or Canada.