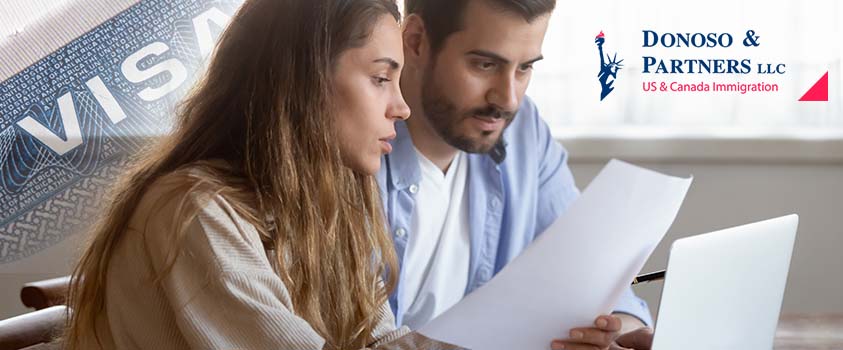 12 Nov

USCIS Agrees to Improve Work Authorization for L-2 and H-4 Spouses

Washington, D.C., November 11, 2021: USCIS has agreed to provide L-2 and H-4 spouses with improved access to work authorization.

At present, USCIS requires L-2 or H-4 spouses authorized to work in the U.S. to first file an application for a temporary work permit on Form I-765 Employment Authorization Document (EAD). The temporary work permit is intended to provide a card verifying their identity and employment authorization. The government's filing fees are $495 for Form I-765, including biometrics fees. While the fees are not a trivial amount, the EAD application system has experienced significant challenges during the COVID19 pandemic. During the pandemic, USCIS has become almost terminally backlogged in its ability to schedule biometrics appointments that require in-person attendance at USCIS satellite offices. Eligible applicants have been experiencing extraordinary delays in excess of 10 to 12 months to receive a biometrics appointment or an Employment Authorization Document. Some applicants simply never received a biometrics appointment or EAD. Eventually, dissatisfaction led to a lawsuit filed in March 2021 as a class action and titled Shergill, et al. v. Mayorkas.

The lawsuit succeeded in a Settlement Agreement entered into with USCIS and effective as of November 10, 2021.

The Settlement Agreement provides specific improvements for work permit procedures for all L-2 spouses and certain H-4 spouses authorized to obtain an EAD. We provide a summary below:
1. L-2 Spouses: Work Authorization Incident to Status
In the Settlement Agreement, USCIS finally acknowledged that L-2 spouses are employment authorized "incident to status". That means that simply by virtue of admission as an L-2 non-immigrant spouse, the L-2 spouse is authorized to work in the United States without the obligation to first apply for and obtain an I-765 EAD card.
The Settlement Agreement provides that USCIS will issue revised guidance confirming work authorization incident to status for L-2 spouses. Further, in cooperation with CBP, the Department of Homeland Security will change the Form I-94 admission for L-2 spouses within 120 days. The changes will indicate that the bearer is an L-2 spouse so that it can be used as a List C document for Form I-9 purposes.
USCIS policy and practice will now be in accord with the Social Security Administration, which clearly states on its website that L-2 spouses (and E-2 spouses) are authorized to work and obtain a Social Security Number incident to status in the U.S. https://secure.ssa.gov/poms.nsf/lnx/0110211420
For L-2 spouses that already have an EAD, the Settlement Agreement provides for the automatic extension of existing EADs, if they continue to have L-2 status after their (a)(18) EAD expires.
2. H-4 Spouses: Automatic Extensions
The Settlement Agreement provides that, within 120 days, USCIS will amend the receipt notice currently issued to H-4 applicants for I-765 Employment Authorization Documents to detail the EAD auto-extension eligibility for those holding H-4 status based on the validity period provided on a Form I-94 in combination with a facially expired EAD and the Form I-797C receipt notice for a timely-filed I-765 EAD renewal application.
3. I-9 Compliance for Employers
To complete Form I-9, L-2 or H-4 spouses may present employers with a combination of their passports (as a List B document) and, as List C documents, an unexpired EAD as defined in 8 CFR § 274a.13(d)(4), an expired EAD that is now automatically extended, or the L-2 admission stamp.
In relation to EAD cards, employees can thus present an employer with a facially expired EAD card indicating Category A18, or a Form I-797C, Notice of Action for Form I-765 with "Class requested" indicating "(a)(18)" and
showing that the I-765 EAD renewal application was timely filed before the EAD expired.
Additionally, an L-2 spouse can provide an employer with an unexpired Form I-94, Arrival-Departure Record, showing valid L-2 nonimmigrant status. USCIS will interpret 8 CFR § 274a.13(d) such that certain L-2 nonimmigrant spouses who timely file their I-765 EAD renewal applications and continue to have L-2 status beyond the expiration date of their EAD qualify for the automatic extension of their (c)(18)-based EADs. The auto-extension of EAD cards would terminate the earlier of: the end date of the individual's L-2 status, the approval or denial of the I-765 EAD renewal application, or 180 days from the "Card Expires" date on the face of the EAD.
The employer would need to reverify work authorization before the end date on Form I-94, date the I-765 is approved or denied, or the 180th day of the EAD auto-extension period.
4. Practical Impact
The ripple effect of these changes are very significant and will help many thousands of families. Some states, such as Texas, require L-2 spouses or H-4 spouses with work authorization to provide the EAD card to be able to receive a Drivers License. Further, Drivers Licenses are limited in time to the validity date of the EAD card rather than the period of admission on L-2. Moreover, we have received reports of L-2 or H-4 spouses being refused Social Security Numbers by the Social Security Administration because they could not provide an EAD card or state Drivers License. The result was that these non-immigrants were being shut-out of the labor market even though it was unequivocally provided in USCIS regulations that they could work in the United States.
The Settlement Agreement is a welcome improvement. It is perhaps the first express acknowledgement by USCIS that current processing backlogs of for EADs and I-131 Advance Parole Travel Permits are entirely unsustainable and can only be resolved by eliminating the red-tape that practically brought the EAD and I-131 Advance Parole system to a halt during 2020 and the better part of 2021.
Donoso & Partners, a leading immigration law firm based in Washington, D.C., will continue to report on developments regarding the immigration law and policy through our news section of donosolaw.com.
SCHEDULE A CONSULTATION TODAY.
Donoso & Partners, LLC provide assistance with review and advice regarding eligibility for visas to the U.S. or Canada.