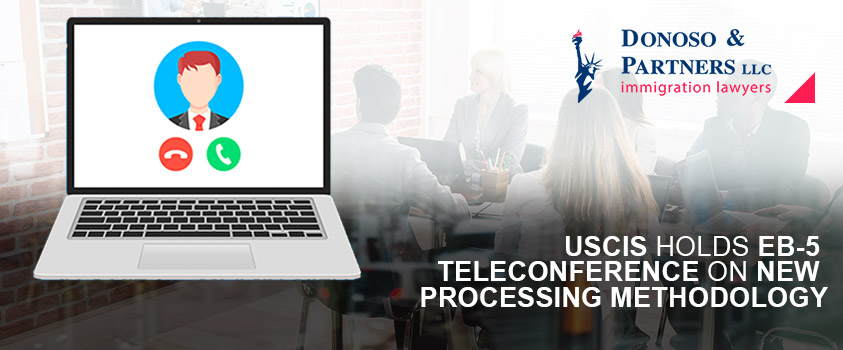 27 Mar

USCIS Holds EB-5 Teleconference on New Processing Methodology

On March 13, 2020, US Citizenship and Immigration Services (USCIS) held a public engagement via teleconference to provide information and answer questions about operational changes to the management of I-526 visa petitions and discussed the agency's change from a first-in, first-out case-processing approach to a new "visa availability" approach for I-526 processing. USCIS' Investor Program Office (IPO) Chief, Sarah Kendall, addressed USCIS' new processing guidelines. The Chief of the Department of State's (DOS) Visa Control Office, Charles Oppenheim, provided updates on visa demand and availability.

What is the new "visa availability" approach?

USCIS will prioritize adjudications for I-526 petitions for individuals born in countries where visas are immediately available or soon to be available based on the DOS' monthly Visa Bulletin. These would include investors born in countries that are not subject to a visa waiting list, as well as petitions from investors whose priority date will soon be current. USCIS will delay processing and adjudication of all other individuals I-526 petitions until their turn on the EB-5 waiting list approaches.

Who is affected by the visa availability approach and does it alter the per country quota?

This new policy will apply to all I-526 petitions currently pending adjudication and petitions to be filed after March 31, 2020. USCIS plans to continue this approach indefinitely.

The new approach does not change the rules for visa availability. The EB-5 quota and per-country cap remain the same.

How Does the DOS Visa Bulletin work?

Each month the DOS issues the Visa Bulletin which summarizes the availability of immigrant visa numbers based on annual quotas. The Visa Bulletin contains two charts per visa preference category:
Application Final Action Dates "Chart A" which confirms when a visa is immediately available for an immigrant visa applicant and;
Dates for Filing Applications "Chart B" which indicates when immigrant visa applicants should be notified to assemble and submit required documentation to the National Visa Center or potentially filed for Adjustment of Status with USCIS.
Each month, in coordination with DOS, USCIS monitors visa numbers and determines whether immigrant visa applicants must use Chart A or Chart B when filing for adjustment of status. USCIS makes this announcement on a monthly basis on their website: https://www.uscis.gov/visabulletininfo
For the month of April, 2020, USCIS has indicated that EB-5 applicants must use Chart A to determine when to file adjustment of status applications.
What Does USCIS' Visa Availability Approach look like in Practice?
USCIS will use Chart B in the DOS monthly visa bulletin to determine which I-526 cases to prioritize for adjudication.
If the I-526 petition's filing date is not before the cut-off date pursuant to Chart B in the month's visa bulletin, the I-526 petition will not be assigned for I-526 adjudication that month.
In effect, USCIS will delay processing and adjudication of all I-526 petitions until the individual's priority date is current or close to current pursuant to Chart B in the DOS visa bulletin.
USCIS will update processing times based on this new methodology in April of 2020.
Who Wins and Who Loses?
Pursuant to Chart B in the April 2020 DOS Visa Bulletin, the EB-5 visa cutoff dates are as follows:

Winners:
USCIS' new policy will benefit new investors and investors with pending EB-5 petitions who are born in countries not subject to a visa waiting list.
Investors from India and Vietnam will benefit in the short term as they are current pursuant to Chart B. This trend could change depending on the rate of approvals of the I-526 petitions and whether Vietnam and India eventually exceed the annual visa limit based on new approvals.
Another group benefits from the USCIS processing policy are families with children who may reach age 21 while waiting for their visa to become available in the waiting list. Under USCIS rules, children who reach age 21 are considered adults and can no longer ride as dependents of their parent's green card petition (called "ageing-out"). The only relief for ageing-out is the Child Status Protection Act ("CSPA"). The CSPA's quirky formula for counting the age of a child allows children to subtract from their natural age all of the days that USCIS took to issue a decision on their parent's green card petition. It follows that the longer it takes USCIS to issue a decision on a parent's green card petition, the more time that can be deducted from the child's natural age. And, consequently, the more probability that the child will avoid ageing-out.
Losers:
EB-5 investors from China will be negatively impacted by this USCIS processing change as the cut-off dates for Chinese born applicants is December 15, 2015 pursuant to Chart B in the April 2020 visa bulletin. Nevertheless, investors from China with priority dates of 2015 and 2016 will see a benefit as a result of positive movement in the Visa Bulletin's cut-off dates.
What Happens Next?
USCIS new processing methodology offers the potential for faster adjudication of I-526 petitions EB-5 investors who are born in non-backlogged countries and a reduction of children ageing-out, especially for individuals from China, Vietnam and India.
USCIS' Office of Performance and Quality will revise the I-526 processing times report to reflect the new processing methodology. As of now, there is no plan for USCIS to show country-specific processing times.
Despite increase in staff at the IPO, Sarah Kendall acknowledged stakeholder concerns regarding the slow in processing times and indicated that new data will be published in the coming month.
India EB-5 is expected to be current pursuant to Chart A by the summer of 2020 and is expected to stay current for the foreseeable future, pending a larger volume of adjudicated petitions by USCIS.
Donoso & Partners, a leading immigration law firm based in Washington, D.C., will continue to report on developments regarding the immigration law and policy through our news section of donosolaw.com.
SCHEDULE A CONSULTATION TODAY.
Donoso & Partners, LLC provide assistance with review and advice regarding eligibility for visas to the U.S. or Canada.