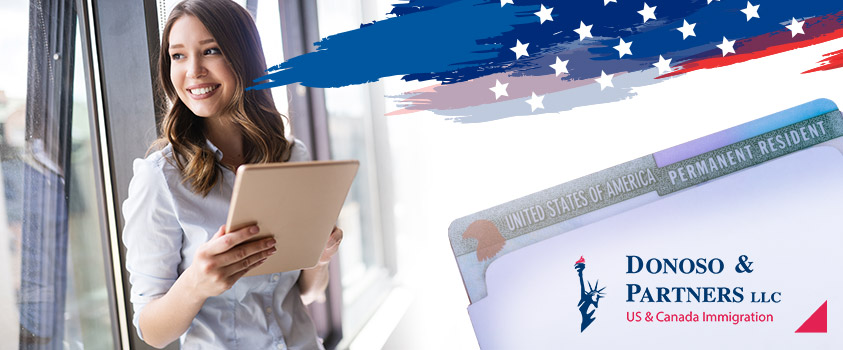 19 Jan

USCIS Makes it Easier to Renew Green Cards

Washington, D.C., January 12, 2021: U.S. Citizenship & Immigration Services (USCIS) announced today that it was removing the biometrics appointment requirement for green card holders who need to renew their 10-year green cards.

Starting in January 2021, USCIS will no longer issue stickers to green card holders who are renewing their 10-year green card. The sticker was issued during a biometrics appointment at an Application Support Center (ASC) after the applicant filed Form I-90 Application to Replace Permanent Resident Card. The sticker had the effect of extending the validity of the applicant's green card (formally referred to as Form I-551, Permanent Resident Card) for one year or more during the renewal process.

USCIS has experienced exceptional delays in many visa processes during 2019 and 2020, as the Trump administration added biometrics requirements for visa processes such as Form I-539 Applications to Extend of Status.

This new policy from USCIS means that green card holders whose 10-year green cards are about to expire will timely file Form I-90 Application to Replace Permanent Resident Card as before, and will receive a paper Receipt Notice (referred to as Form I-797, Notice of Action). The paper Receipt Notice will be revised to serve as a receipt notice for the Form I-90 and will also serve as evidence of a one (1) year extension of the applicant's green card.

Green card holders will be expected to present their expired green card together with the revised Form I-797 Receipt Notice, and thereby serve as temporary proof of the person's green card status. The expired green card plus Form I-797 Receipt Notice will be valid evidence of identity, employment authorization, and authorization to return to the United States following temporary foreign travel.

USCIS also warns that green card holders who filed a Form I-90 and have not yet received a biometrics appointment notice will be exempted from having to visit an ASC for biometrics. Only I-90 applicants who have already been scheduled for a biometrics appointment will not receive a revised notice and will be issued an extension sticker at their biometrics appointment.

USCIS also states that it is expecting to be able to issue I-797 Receipt Notices for I-90 application within 7-10 days after filing, to be delivered by mail. Currently, USCIS has been slow to accept new cases through its mail rooms (reports of weeks-long delays are common), and has been equally slow in issuing I-797 notices in the mail.

In relation to employment verification (Form I-9), employers can rely on the green card holder's expired green card plus Form I-797 Receipt Notice as evidence of identity and continued employment authorization in the U.S.

Donoso & Partners, a leading immigration law firm based in Washington, D.C., will continue to report on developments regarding the immigration law and policy through our news section of donosolaw.com.
SCHEDULE A CONSULTATION TODAY.
Donoso & Partners, LLC provide assistance with review and advice regarding eligibility for visas to the U.S. or Canada.