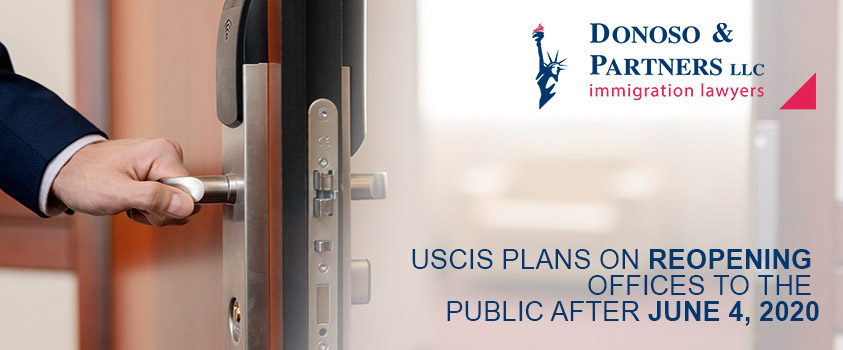 27 Apr

USCIS Plans on Reopening Offices to the Public after June 4, 2020

Washington, D.C., April 27, 2020: USCIS announced on Friday, April 24, 2020, that it intends to reopen its offices to the public on or after June 4, 2020. Since March 18, 2020, USCIS offices in the United States have been closed to all public visitors for any appointments, interviews or any other purposes. USCIS itself has continued to operate and process petitions and applications, but has done so without any contacts with applicants.

This news holds open the possibility of applicants being able to complete Adjustment of Status applications, naturalization interviews and oath ceremonies for naturalization. Additionally, immigrants have experienced difficulties in terms of obtaining evidence of valid status, such as EB-5 investors who have been unable to receive renewal stamps for their Conditional Lawful Permanent Resident status during the pendency of Form I-829 Petitions to Remove the Conditions on the green card status.

No news have been issued by the US Department of State regarding the date when US Consulates will reopen to the public.

Given the backlog of cases at USCIS for in-person appointments, it is likely that there will be long waits in the coming months for any in-person USCIS actions. Applicants should stay attuned to any email or notices, and make sure their mailing addresses are up to date with USCIS.

Donoso & Partners, a leading immigration law firm based in Washington, D.C., will continue to report on developments regarding the immigration law and policy through our news section of donosolaw.com.
SCHEDULE A CONSULTATION TODAY.
Donoso & Partners, LLC provide assistance with review and advice regarding eligibility for visas to the U.S. or Canada.