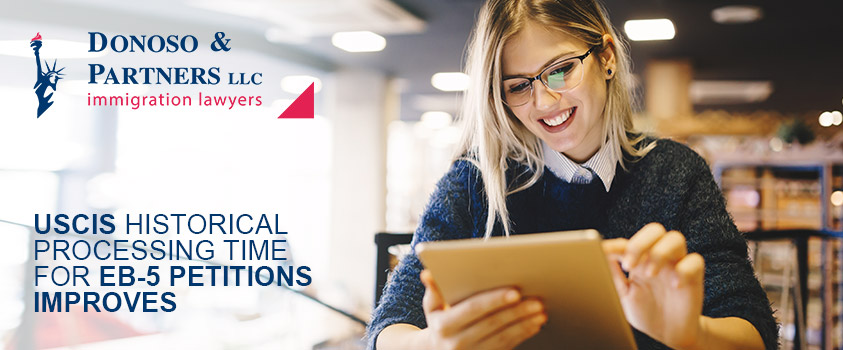 17 Apr

USCIS Historical Processing Time for EB-5 Petitions Improves

U.S. Citizenship and Immigration Services (USCIS) recently updated its historical processing time webpage which confirms that average I-526 processing times have dropped from an average of 19.8 months in FY 2019 to 12.6 months so far in FY 2020 (Oct. 1 to Jan. 31). USCIS has yet to update its current processing time webpage to account for its new "Visa Availability Approach" I-526 petition processing methodology. It is expected that USCIS will update its current processing times in the next few months.

This positive development comes shortly after USCIS announced that it will prioritize adjudications for I-526 petitions for individuals born in countries where visas are immediately available or soon to be available based on the DOS' monthly Visa Bulletin. This new policy will apply to all I-526 petitions currently pending adjudication and petitions to be filed after March 31, 2020. USCIS plans to continue this approach indefinitely. Our firm published a detailed article on USCIS' new "Visa Availability Approach" processing change last month.

In another potential signal for improved I-526 processing times in 2020, Donoso & Partners is pleased to announce that it has recently received an approval for an I-526 petition that was filed less than 10 months ago. This is a positive sign that the USCIS' Investor Program Office is implementing its new processing methodology which could result in improved I-526 adjudication times for many EB-5 investors.

Donoso & Partners, a leading immigration law firm based in Washington, D.C., will continue to report on developments regarding the immigration law and policy through our news section of donosolaw.com.
SCHEDULE A CONSULTATION TODAY.
Donoso & Partners, LLC provide assistance with review and advice regarding eligibility for visas to the U.S. or Canada.